ArcGIS map layers now available
ArcGIS maps can now be layered on the native map - all of your data displayed in flexible layers. Points of Interest (POIs) got a facelift and received backend performance improvements this month. We also added lots more functionality to our features currently in beta: Tracks and Vehicle Status.
May's release includes a brand new ArcGIS map layers feature, a POI refresh, lots of end-user experience improvements, and additional backend improvements.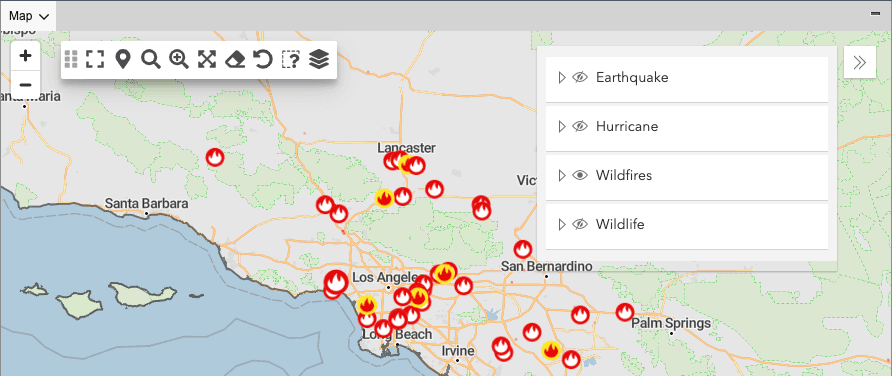 ArcGIS map layers
With the new ArcGIS layer feature, you can run all of your ArcGIS maps as layers on top of the native map. You can view all of the data you need - directly on the map. You can toggle layers on and off quickly and easily to customize the view. Both public or custom ArcGIS maps can be used, so no matter your industry, you can take advantage of the new feature. The new ArcGIS layers feature is particularly useful for enterprise and government customers using Esri, whether for snowplowing, road works, or complex logistics. Other industries where maps aren't readily available to the public - like secure airports or constantly changing mining sites - will also find the new feature useful. Learn more about using ArcGIS layers in GpsGate.
Points of Interest
Users will love the new Points of Interest (POIs)! POIs now have the same streamlined design interface as the rest of GpsGate so using them is a pleasure. We also included performance improvements when using POIs with geocoding, event rules, and import/export. POIs can be imported directly in applications for more efficient workflows.
Preview release features also got a lot of updates and enhancements this month.
Tracks (beta)
One of the important items on our Tracks 2.0 roadmap is now available - event support! You can view events on the timeline or on the map. This helps operators and managers get a clear picture of a vehicle's trips without tons of clicking around and running reports. Learn more here.
Vehicle Status (beta)
We added icon sets and event badges to vehicle status. They are viewable on both the popover and the panel-style vehicle status. Other minor enhancements were released this month, and we're working on the next big functionality release. In the meantime, send us your feedback on the current version. Learn more here.
More details
For all of the release details, visit the May release notes. For access, update your server to the latest monthly release.