Customize your fleet reporting with Excel data
GpsGate reports are now available in Microsoft Excel format. Optimize your fleet operations with the data that works best for your team.
Is Excel your company's favorite reporting tool? You're in luck! With June's release, GpsGate reporting is now available in Microsoft Excel data. With our flexible and customizable reports, you can analyze and organize your fleet data in the way that works best for you and your customers.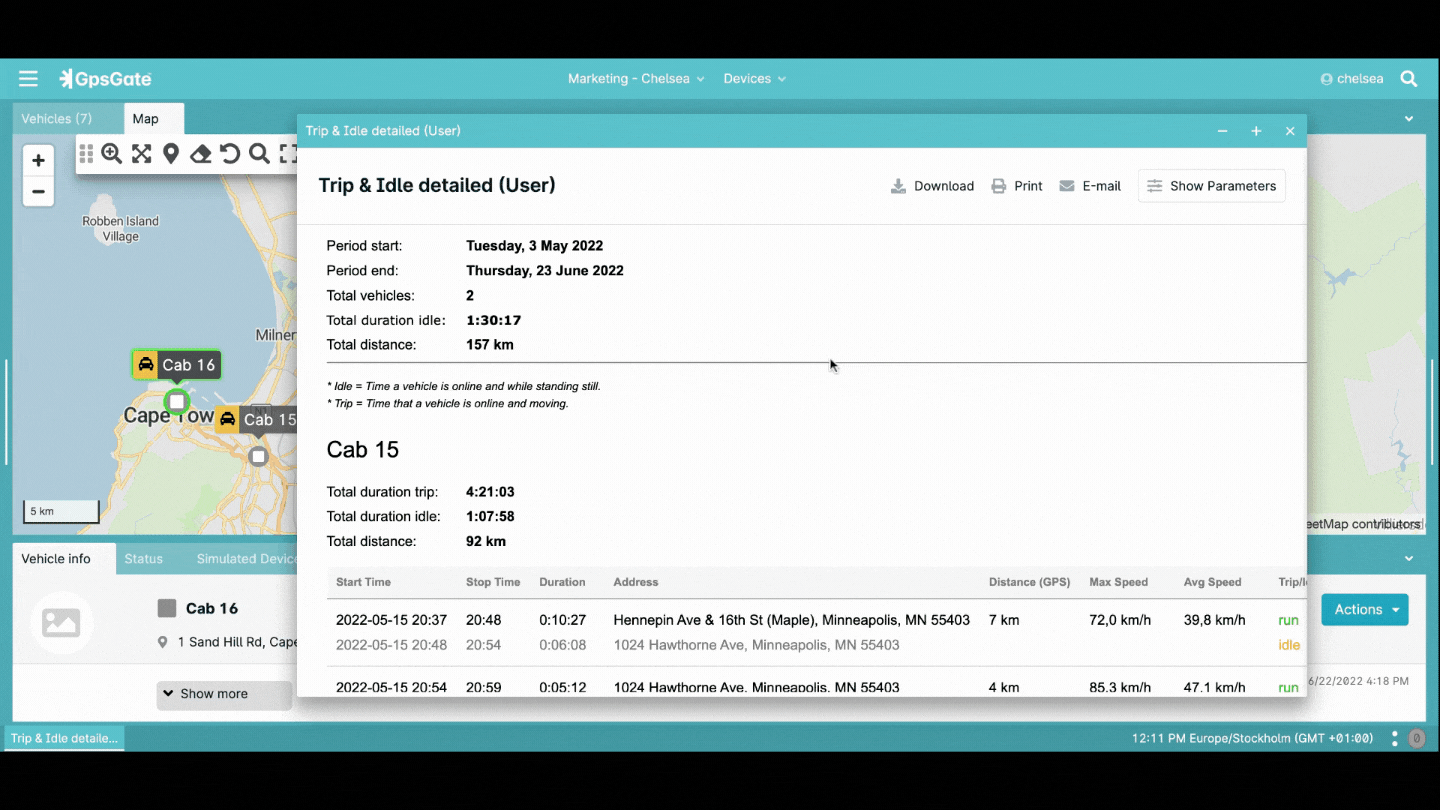 Render and download fleet data from any application
From the application, it's easier than ever to manage and render reports. With Excel compatibility, you can download fleet data and plug it into your company's favorite worksheets with your own custom formulas. Forecast gas consumption, anticipate vehicle maintenance, and track fleet resources. With proper use of reports, you can perform cost analysis to keep a pulse on your fleet costs.
Update your server to June's release and optimize fleet operations.
Measure driver behavior with GpsGate data in Excel
Target dangerous driving behavior by monitoring speeding, harsh braking, and acceleration events. GpsGate's customizable reports like eco-driving can help you identify which drivers and vehicle fleets need the most improvement. Fleets that focus on eco-driving can lower their fuel costs and create less wear-and-tear on fleet vehicles. Consuming fewer fleet resources is not only better for your bottom line, it also lowers your carbon emissions. Learn more about how GpsGate's flexible platform gives fleets the data they need to become greener.
Use Excel's charts and graphs functions
Known for its user-friendly charting functionality, your team can visualize vehicle fleet data in new ways. Plot charts based on individual vehicles or tags to visualize patterns over time. Measure time spent on site, point of interest statistics, and GPS signal details. As one of the most versatile reporting systems across industries, XLS data is compatible with other programs like Google Sheets. See more details about what you can measure with standard reports from GpsGate.
Keep data top of mind and schedule reports
Have fleet data that you analyze regularly? Schedule daily, weekly, or monthly reports to render and send via SMS or email. A feature that has long-been available in GpsGate with CSV and PDF, you can now send Excel-formatted data to all the members of your team.
Start using Excel functionality with this support article!