GpsGate celebrates new Stockholm office and first-ever partner days
A great office environment means our team can produce great work. This fall, GpsGate moved to a new Stockholm location. To celebrate this milestone, we invited our partners, friends, and family to bring our new space to life. At GpsGate Partner Days, our customers had the chance to learn from each other and spend face-to-face time with our team. An action-packed week ended in a GpsGate housewarming party, complete with office tours, great food, and fun.
New Stockholm office mirrors GpsGate growth
GpsGate is growing across all departments. In 2022, we've added 10 new fantastic team members to our sales, marketing, front-end, and backend development teams. Naturally, we outgrew our previous Stockholm office and were in search of the next great space to meet our working style. The new office is located in an old brewery building, featuring large original windows and tall ceilings. Our 3 floors were redesigned to give team members space for focus with room for flexibility, collaboration, and creativity. A large kitchen and dining area gives us ample room to enjoy our Wednesday breakfasts, company meetings, team lunches, and office happy hours.
What's work without a little play?
As a Swedish company, work-life balance is at our core. Nurturing a healthy company culture with great communication is always in focus. Between our Stockholm, Gothenburg offices, and remote employees, we maintain an agile working style. For in-person collaboration, this location has a balance of open working space, common areas with large sofas, and quiet huddle rooms. Colorful artwork and plenty of natural sunlight liven up our workday. When we need a break from screen time, the lower level of our office has a pool table, ping pong, and access to the building's gym – complete with treadmills, weight machines, and in good Nordic style, a sauna.

20+ tracking companies on-site for first-ever GpsGate Partner Days
GpsGate powers tracking businesses in over 150 countries. While our team is highly skilled at providing remote support, but nothing beats seeing our collaborators in person. Tracking partners from all over Europe, Latin, America, and the Middle East joined our in GpsGate's first Partner Days event. This group of experts uses GpsGate to serve fleets in cold chain logistics, electric delivery fleets, public transportation, waste management, security sectors, vehicle rentals ...and the list goes on! We hosted co-learning sessions where Informax, MobiOne, Paxster, HHP, Conneqtech, and our device partner Teltonika, shared the tailor-made solutions they've built within GpsGate.
Read more about our work with EV manufacturer Paxster

For first-time visitors to Sweden, we arranged a historical tour of Stockholm's Old Town (Gamla Stan). Typical Swedish weather in November meant that a few of our customers even had the chance to see snow for the first time! Back at the office, partners had technical sessions with our solutions engineers, and learned how to take advantage of GpsGate resources to power their businesses. An introduction to solution selling shared techniques to focus on solving customer problems in the sales process. Want to know more? Contact our sales team for access to the recorded webinar!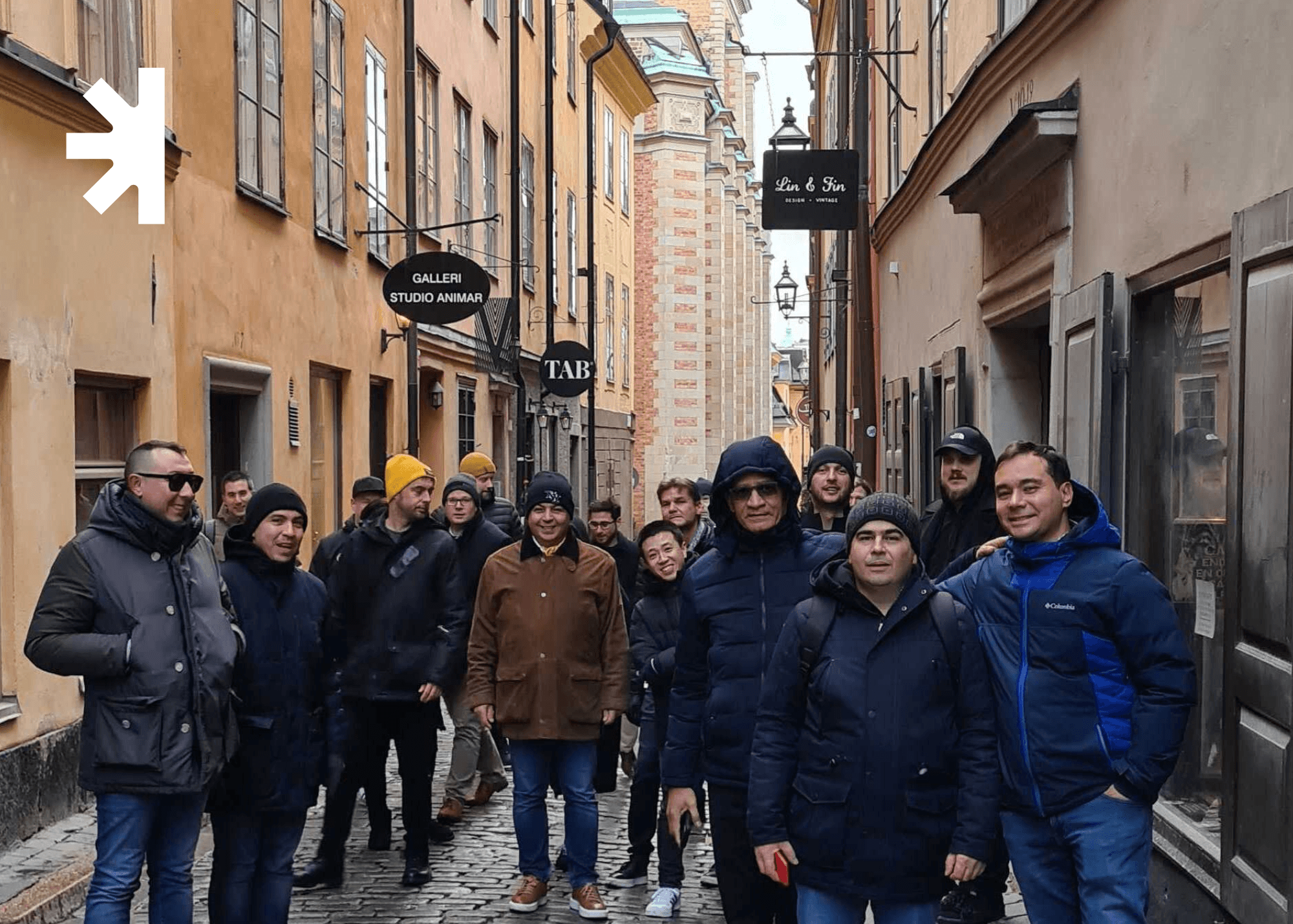 GpsGate housewarming party to celebrate new Stockholm office
A great space should be filled with great people. GpsGate customers, staff, plus their friends and family came together for our housewarming party. A food truck featured Venezuelan food, and our bar poured local tap beer with craft cocktails to mark the occasion.

More space means even more innovation
GpsGate has been powering fleet tracking companies since 2007. With our new Stockholm office, we're more energized than ever to build upon our mission of helping fleets become greener, safer, and more productive. We're motivated to develop GpsGate to meet the fleet challenges of tomorrow. By growing our partners' businesses, we empower them to better serve their own customers with the most flexible tracking platform on the market.
Want to work with GpsGate? Contact us to get the conversation started.