Optimize fleet management with event rules
The best way to understand fleet behavior? Event rules. Whether you'd like to monitor routine activity or a more complicated sequence, event rules are essential. With GpsGate, you can create event rules and customize alert settings. Capitalizing on these nuances of fleet management presents opportunity for business growth.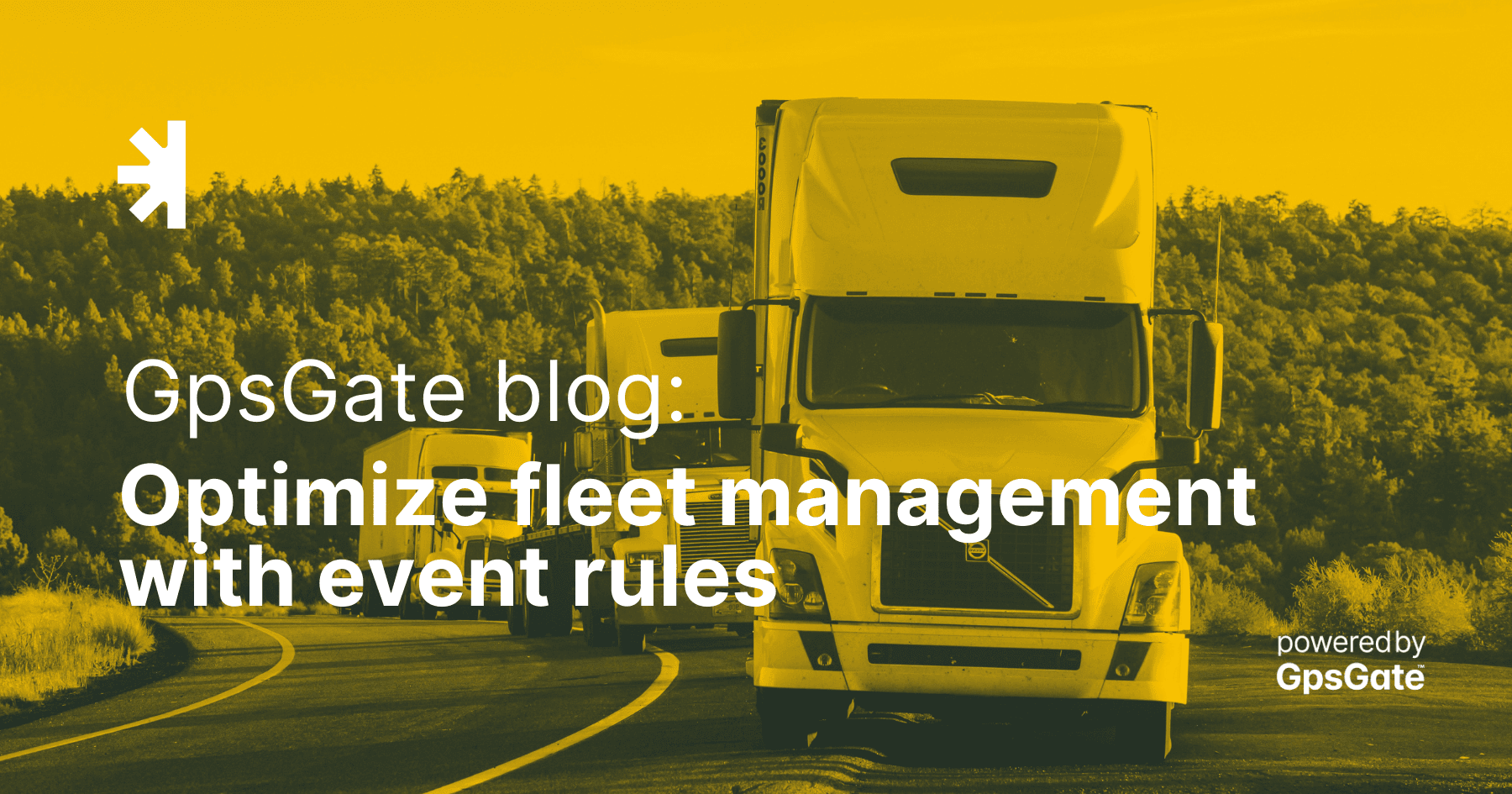 An urban truck driver delivers an average of 40 parcels a day¹. Multiply that by a dozen drivers, or 100 drivers, and that's a lot of fleet activity to track. By using event rules, you can choose which actions you need to see in real-time, and which ones will populate in event reporting. Monitor driver ID, geofence activity, and track fuel. With GpsGate's Event Rules Wizard, you can customize settings even further. Real-time alerts and event reporting give you the perfect combination of data to understand how all members of the fleet are moving throughout their day. And once you have all of those details, it's easy to make changes that promote best practices and increase efficiency.
What are event rules in fleet management?
An event rule is a set of conditions created to track important fleet activities. With the use of telematics and GPS devices, event rules are configured and analyzed with a fleet tracking platform like GpsGate. Events can trigger notifications to inform you of speeding, a driver SOS, or a fleet vehicle entering and leaving a geofence. Once you set conditions for an event rule, let's say anytime a vehicle exceeds a speed of 50 km/hr in an urban setting, it can be assigned to a group of vehicles. If a vehicle violates the speeding event rule, it's flagged and documented.
Tracking service providers use GpsGate to create tailor-made event rules for fleet customers. This GpsGate core feature allows fleets to monitor common scenarios but also go as complex as needed. Fleet owners can then dial in on improving operations that are specific to just their fleets, and important to growth of their business.
Start with GpsGate's common event rules
Event rules for points of interest
From the map, a new point of interest is created quickly. Categorize important places like fill stations, secure fleet parking, and customer warehouses. You can then group your POIs and create an event rule to notify you when a vehicle is in the vicinity of a POI. Create an event when a vehicle is 50, 100, or event 1000 metes from a POI - you decide! This can be especially useful in cases of high security or sensitive cargo. With POI alerts, the fleet manager knows that the cargo truck is either approaching or leaving its destination and can in turn notify the customer. Live alerts like these ensure seamless delivery, with little time wasted in the field.
See how Aragón's Fire Watch Program uses POIs to organize their firefighting fleets.
Driver log-in detection rule
Want an alert each time someone gets into the driver's seat? Vehicles that use GPS trackers with RFID/iButton features can be configured to GpsGate for added security. When a driver enters the vehicle and verifies their ID, you'll see a notification in the application. View driver name, vehicle information, and the GPS location on the map.
Flag dangerous driving with event rules
Speeding, harsh cornering, rapid acceleration – these driving behaviors are not only dangerous, they use more fuel and cause more wear and tear on fleet vehicles. With GpsGate's Speeding Expression plugin, you can configure different speeding alerts from motorways to residential areas. Tracking these behaviors in GpsGate can lead to better driver awareness, training, and driving records. In turn, this means fewer traffic violations and lower insurance premiums.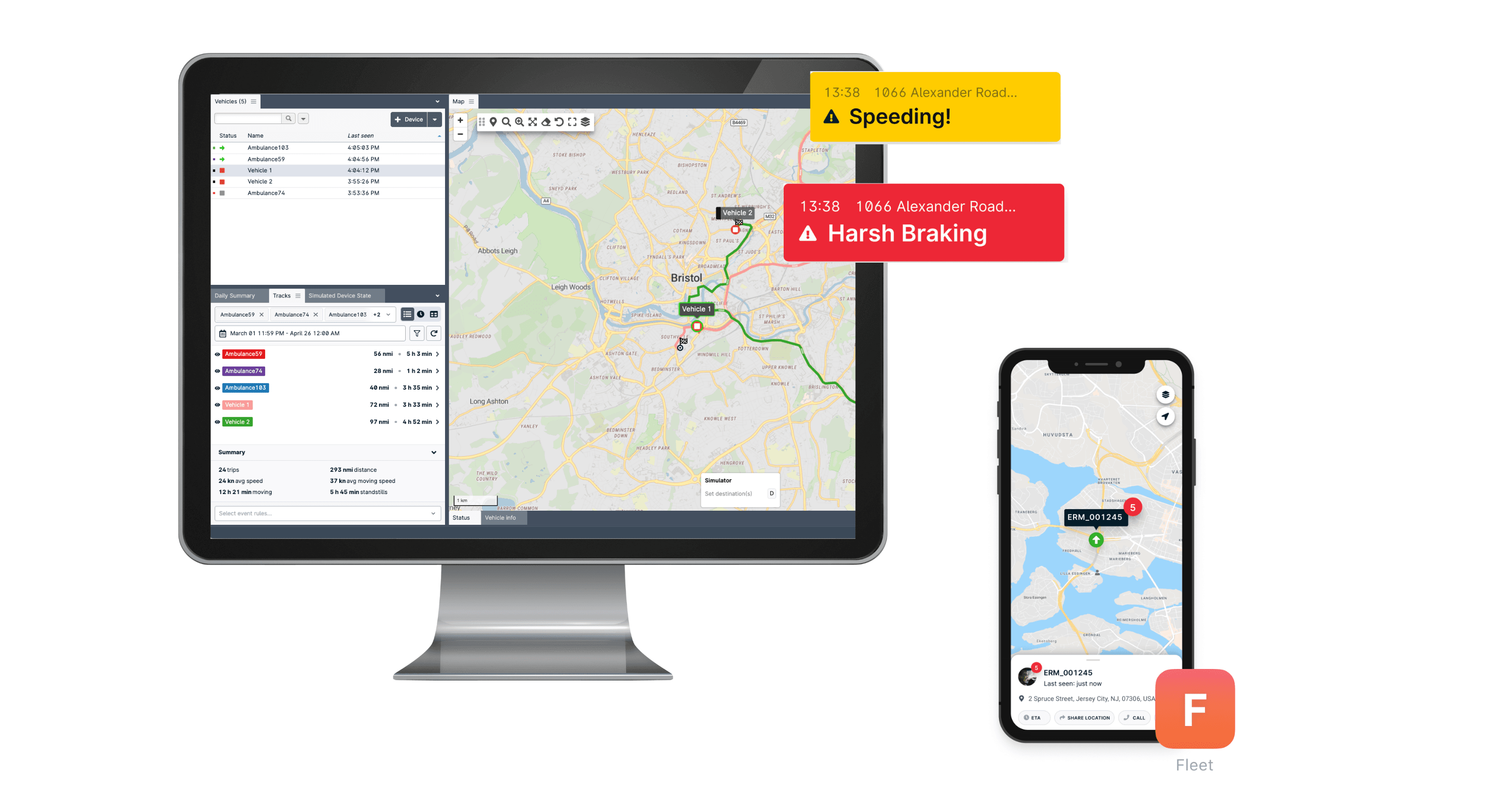 Other capabilities with event rules in GpsGate:
Send push notifications to GpsGate's Fleet app
Reproduce a sound alarm
Send an SMS or email when drivers enter or leave a geofence
Send commands to a device when an event occurs
Send notifications to external customer systems
Tailor-made event rules within GpsGate
The best thing about event rules with GpsGate? They are completely customizable. Configure the complex event rules that give you niche data. Sending commands to a device or using HTTP expression require more custom fields, data, and testing to fully integrate. But once you've successfully created an event rule, you can clone it! Maximize your time by duplicating and editing your most complex event rules.
Customize event rule notifications
You have control over where and how notifications are used in conjunction with event rules. Do fleet managers need to see notifications visible in the application? Would fleet owners like to have real-time event notifications sent to them via the SMS? Or maybe warehouse technicians need to use our Fleet App in the field? Do operators need to see live SOS alerts from drivers? Specify your notification preferences in the Event Rules Wizard.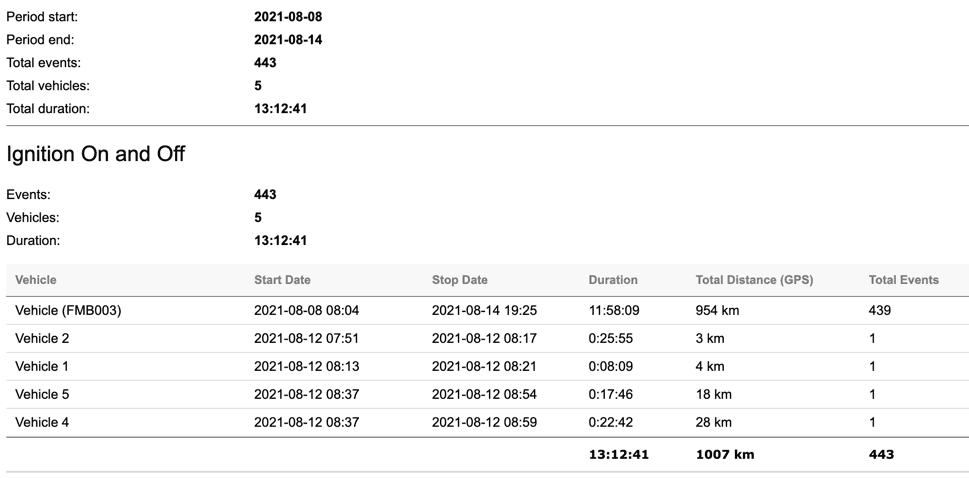 Use event rule reporting to your advantage
Fleet owners are always looking for ways to promote business growth. Here's where event rules reporting comes in. Beyond the real-time alerts, historical data gives you a better idea of fleet behavior trends over time. Can drivers cut down on unnecessary idling? Which vehicles run the same delivery routes and can they be combined? GpsGate comes with several built-in event reports to help you answer important business questions.
GpsGate's flexible platform will power your business
GpsGate's fleet management software was built for flexibility. The event rule is just one of the many ways that you can tailor GpsGate to work for you. With GpsGate, you can manage fleets from a birds eye view, but also zoom in to the minute use cases that make a fleet distinct. Learn how to take exactly what you specialize in and do it better with a powerful GPS tracking platform.
Sources:
1. Ivan Sanchez-Diaz, Laura Palacios-Argüello, Anders Levandi, Jimmy Mardberg and Rafael Basso. "A Time-Efficiency Study of Medium-Duty Trucks Delivering in Urban Environments." MDPI, Basel, Switzerland. Published: 6 January 2020.