Optimize fleet operations with Tracks
Tracks gives fleet managers the historical fleet data they need to improve their fleet operations. We've added feature after feature to Tracks in the past few months - and March's release throws in a final tweak. Welcome to Tracks!
Tracks is designed to help managers effectively view and analyze historical fleet data and optimize future fleet operations. March's release has the final feature power users will love: keyboard shortcuts. You can now toggle between track points with ease using the arrow keys.
Tracks is full of great features - and we want to help you make the most of them. Here's a quick recap of Tracks features we designed to help fleet managers work smarter:
Tracks Points and the Tracks Timeline
Tracks are the foundational data for any fleet manager or fleet operator. Want to know where the fleet traveled? GpsGate makes it easy to find, view, and interact with Tracks.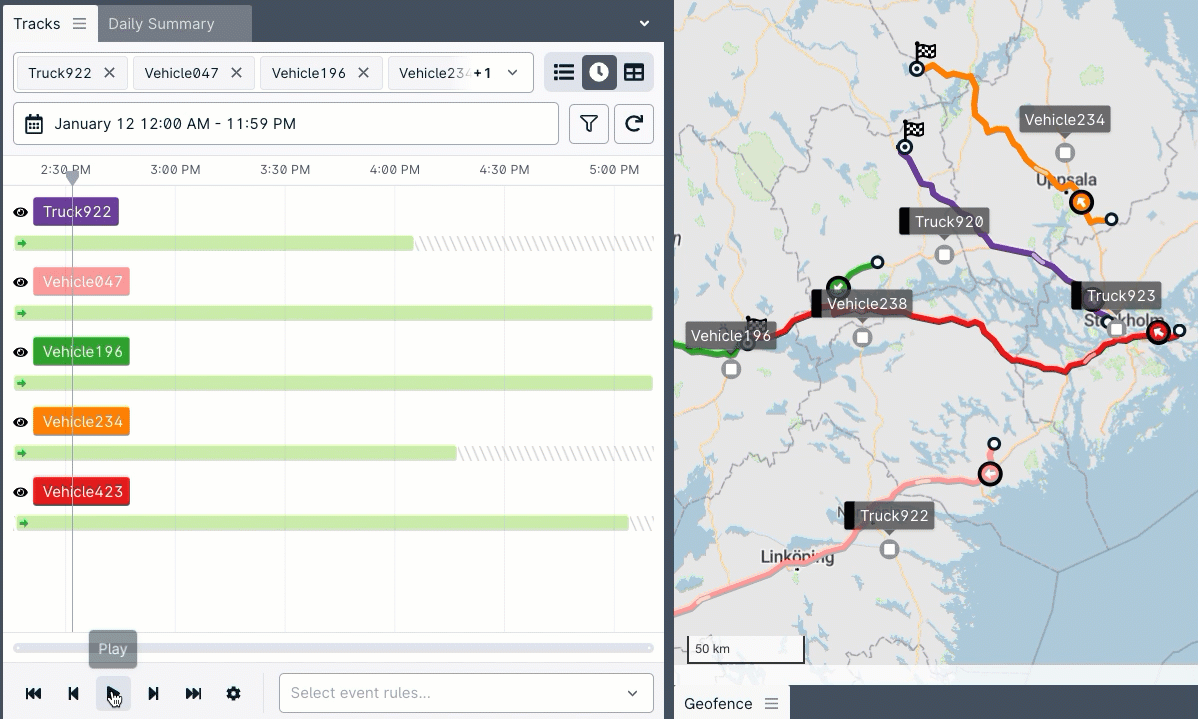 Replay tracks
Make your track data come alive! You can watch tracks replay on the map at the speed you choose from the Tracks Timeline.
Locate the closest track point
Hover over a spot on a track to find the closest track point. If you click on it, you can see the full track point data.
Hop between track points with the arrow keys
This month's addition lets you hop between track points using the arrow keys on the track points page. It's a great time saver and useful keyboard-powered function for power users. Furthermore, the Tracks map layer can now be toggled in the map layer selector.
Charts
Charts plots fleet data on a graph. This makes it easy for fleet managers to identify issues and analyze the fleet. It's helpful for making fleets greener and more productive - reduce idling, save fuel, and encourage eco-driving.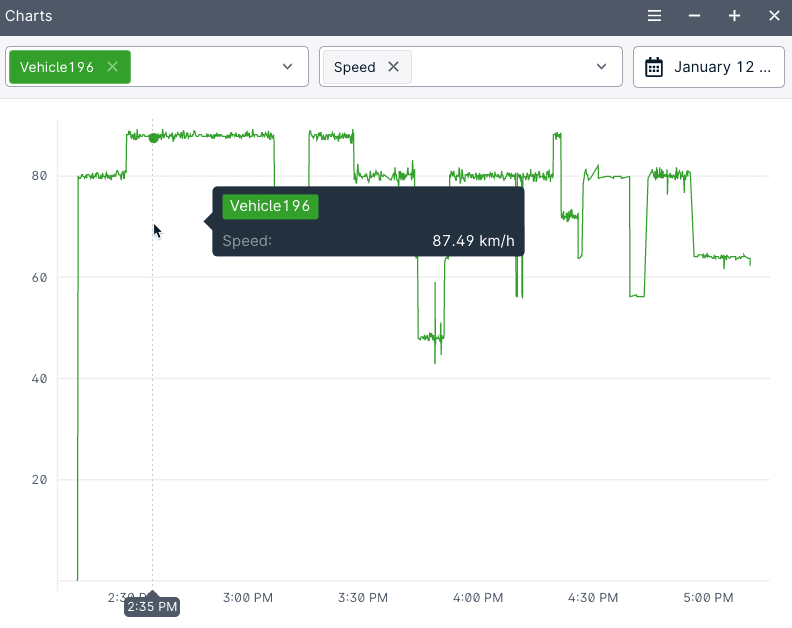 Daily Summary
The Daily Summary is not only great for getting an overview of a fleet's activity. This panel also provides a bird's eye view of historical fleet data over longer periods.

Daily Summary bounding boxes
Hover over a row in the daily summary to see a track bounding box on the map. This gives you an instant visual of the vehicle's activity without waiting for any data to process. You can get quick overviews before drilling down on the information you need.
Drawing route geofences from a track
Right-click on a track row in the Daily Summary to create a route geofence. Smart user interface shortcuts like this help operators efficiently manage fleets.
More March feature additions
More server administration options in-app: you can now find user search from Server Administration -> Users-> User Search - no need to navigate to Site Admin.
Security updates: We continue to make our platform and company more secure. For more on how we do it, read about our recent ISO 27001 certification.
March's release also includes new supported devices, enhanced device integrations, and language updates, among other things.
More details
For all of the release details, visit the March release notes. For access, update your platform to the latest monthly release.
Dispatch is now deprecated. See more details on the deprecation schedule.