User-based reports
Our new user-based reports give fleet managers the user data they need without the need for user-level tags. No tag setup is required.
Getting data at the user-level is important when managing both smaller fleets and larger fleets. User-based reports allow you to get this data without setting up individual user tags. Simply add the report to an application, select the users to include in your parameters, and run the report.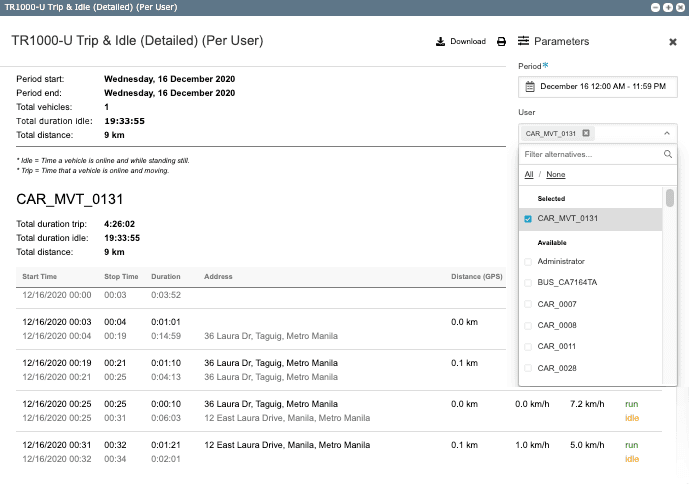 With user-based reports' you can easily pull reports for any user(s) or all users. The new user-based reports include:
TR1000-U Trip & Idle detailed
TR1001-U Trip & Idle daily
EV1000-U Event rule
EV1001-U Event rule total
MT1002: maintenance service status per vehicle
The trip & idle detailed report shows you detailed trip information and idle time. This includes the date & time, idling duration and address, distance, plus the maximum and average speeds. The trip & idle daily report shows the daily time and duration of the trip and idle for vehicles within a selected period plus the other information like start & stop times, total distance, and % idle.
The event rule reports show lists of all events generated during the selected time period grouped by event rule. It includes information like event rule duration, number of events, number of vehicles involved, and more.
The maintenance reports show all the maintenance logs with relevant information for the selected vehicles.
Consult the full list of standard reports to see how you can help your customers get the data they need to better manage their fleets. You can always customize reports in GpsGate to add additional data fields, customer logos, and more.