Fleet management in any language
GpsGate is available in over 20 languages, so no matter where your customers are, they can work in their native languages. New versions of Spanish, German, and Chinese are now available!
With GpsGate, operators, drivers, and managers can work in their native languages. We worked with leading translation agencies to ensure accuracy for end-users (previous versions were user-submitted). Chinese, Spanish, and German join English and Swedish as certified languages in the platform.
Your customer base may not be in a region that uses these five languages - that's why we support over 20 languages. There are many other user-submitted UI languages available. If your desired language isn't available, you can create a new one or modify an existing language to fit your needs.
Native translations: our expert users have submitted translations in their native languages.
Flexible language options: you can set languages on a per-server, per-application, or even per-user basis. Each user can work in the platform using their language of choice. Workers are more effective and more accurate when they are able to work in their chosen language.
Custom substitutions: you can customize all the available languages. This ensures that you can meet each customer's unique needs. Your customers can incorporate special terminology or in-house abbreviations.
GPS tracking is a global need. GpsGate's fleet management platform lets customers work in their native languages. Employees can work faster and more accurately.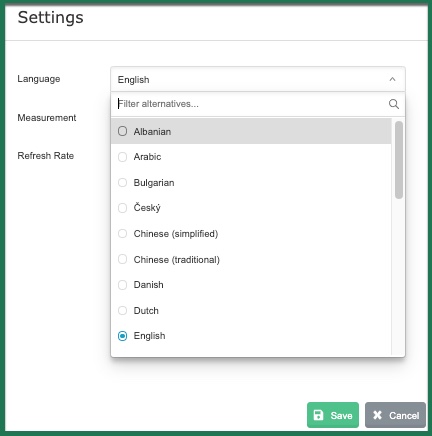 GpsGate currently offers the UI in the following languages: Albanian, Arabic, Bulgarian, Chinese, Croatian, Czech, Danish, Dutch, English, Finnish, French, German, Greek, Hungarian, Italian, Polish, Portuguese, Romanian, Russian, Serbian, Spanish, Swedish, and Thai.
This month's release also included more REST resources, global search updates, and more. Read the release notes here.