How to achieve full visibility over cold chain fleets
A single cold chain shipment can be worth millions. And keeping sensitive cargo in prime condition throughout its journey is a tall order. Navigating several transport types and drastic temperature changes is only the beginning. For cold chain experts, the best way to avoid spoiled goods is by monitoring each step of the way with an advanced fleet tracking software.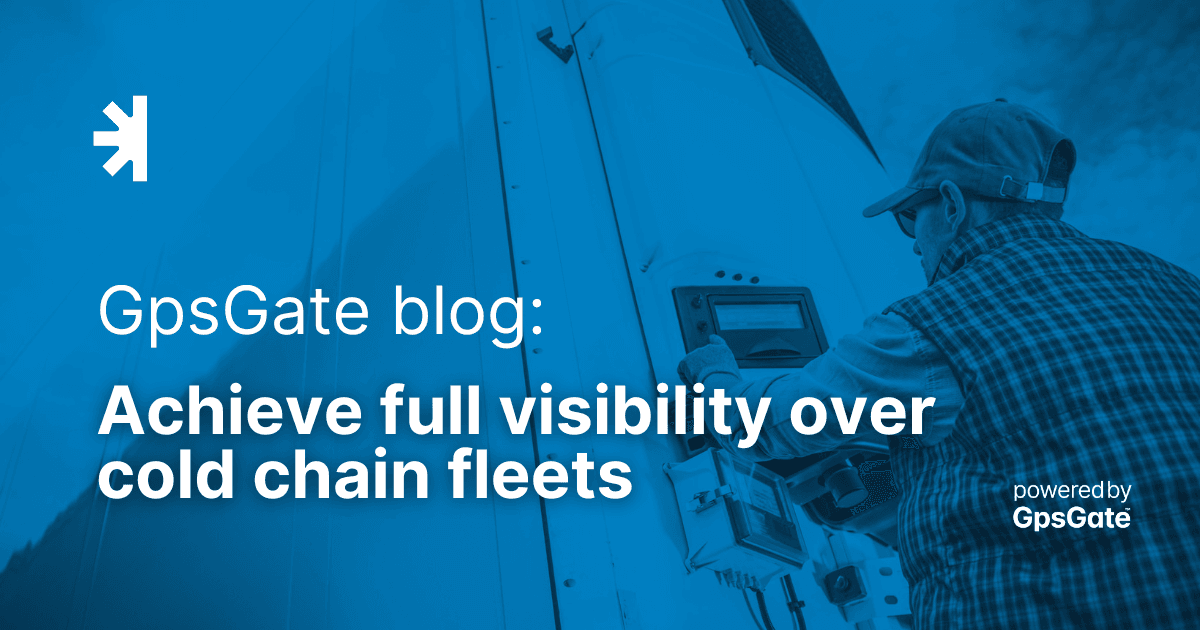 Consumer electronics, like the one you're using to read this blog, are best kept at room temperature, around 70 °F (21 °C). From factory floor to your hands, your electronic device has been on a highly regulated journey. Products manufactured in Asia are shipped across the ocean in reefer containers, picked up by refrigerated trucks, and eventually distributed to stores. Statista reports that computer, film, and electronics had a market value of one trillion dollars in 2021 and their influence on temperature-regulated transport keeps growing.
Along with electronics, the pandemic caused a surge in demand for fresh and frozen foods as people were confined to their homes during lockdowns. Vaccine transport became a global challenge that illustrated our dependence on cold chain cycles even further. Transporting cargo from one corner of the globe to another is logistical jigsaw puzzle. So how do fleets effectively move sensitive cargo when time is of the essence?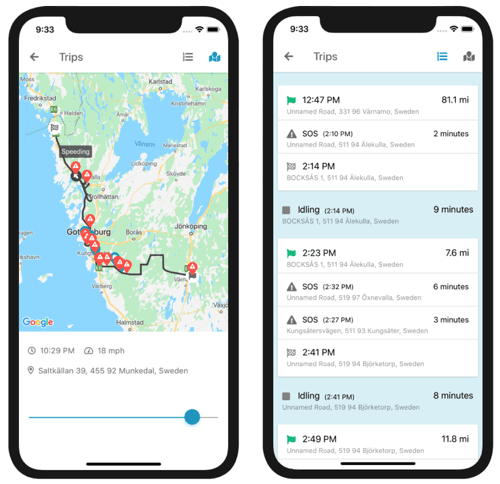 Checks and balances each step of the way
Great cold chain suppliers deliver delicate goods to their customers with minimal error. Temperature-sensitive products like food and produce, livestock transport, pharmaceuticals, biological materials, chemicals – each type of cargo needs to adhere to different compliance regulations. Fleet managers carefully measure temperature and track transport vehicles to avoid costly hiccups. When companies use an advanced fleet management software, they control the process from start to finish.
How to begin automating cold chain transport
Managing cold chain fleets is more than monitoring temperature. Real-time vehicle location, geofence alerts, updates on driver behavior, delivery confirmations – all these features contribute to the high standard that end customers expect. Below, we'll cover ways that GpsGate's fleet management software gives cold chain logistics companies the leverage they need to compete in a booming industry.
1. Chose GPS devices with the right functionality for your expertise
Refrigerated fleet vehicles use state-of-the-art GPS tracking devices with temperature monitoring capabilities. But those trackers don't work by themselves – they depend on great software to bring vehicle data to life. Fleet managers make use of IoT solutions to leverage real-time cargo monitoring. GPS devices pair with accessories like sensors and RFID technology to monitor temperature changes and spot minute abnormalities in transport conditions. GpsGate's fleet management platform integrates with virtually any device so you get exactly the data you need.
Read more about selecting the right GPS trackers for your business
2. Use GpsGate event rules and alerts to avoid costly mistakes
The goal is to deliver products in mint condition to customers every time. Even so, an estimated 35 billion dollars of food is wasted or lost globally each year. A single truckload can result in a loss of 100s of thousands of dollars if it's not handled properly. With GpsGate, fleet managers use event rules to prevent such mistakes. Receive alerts when cargo doors aren't closed properly and quickly identify rising temperatures. Configure event rules to monitor driver behavior, geofence activity, and excessive idling. With GpsGate, users see a comprehensive picture of their supply cycle.
3. Preset cargo profiles for different customers
GpsGate gives you the flexibility to create custom applications for each of your customers. Set specifications for produce delivery in one application, livestock transport in another, and pharmaceuticals in another. Cargo type, fleet vehicles, and temperature thresholds are easily configured in GpsGate. With the use of APIs, you can integrate with other business software. This allows your team to keep customers with completely different needs organized and streamlined.
4. Maximize fleet uptime with proactive vehicle maintenance
One small vehicle issue has the potential to break the entire cold chain delivery cycle. With a proactive maintenance routine, fleet technicians detect issues before they become problems. Faulty refrigeration units, broken lock systems, overdue oil changes, and tire issues can spell disaster for delivery teams. GpsGate Maintenance even comes with a mobile application to track upcoming and overdue service schedules in real-time.
5. Use temperature reporting for compliance & efficiency
Real-time cargo tracking is a great start. But monitoring historical trends helps fleets to stay efficient in the long run. Fleet managers in cold chain logistics use our reports to ensure compliance and dial in on fleet behaviors that are easy to miss. GpsGate comes with several standard reports that work well for cold chain: temperature monitoring, trip and idle reports, eco-driving, and fuel consumption. The temperature exceptions report documents every time the cargo temperature reached a level outside of the assigned range.

Need something more specific? You have the flexibility to customize conditions for each unique customer case with scripting. Schedule daily, weekly, or monthly reports to render and send via SMS or email. Send GpsGate reports with CSV and PDF, or Excel-formatted data to all the members of your team.
See these GpsGate support articles and discover what's possible: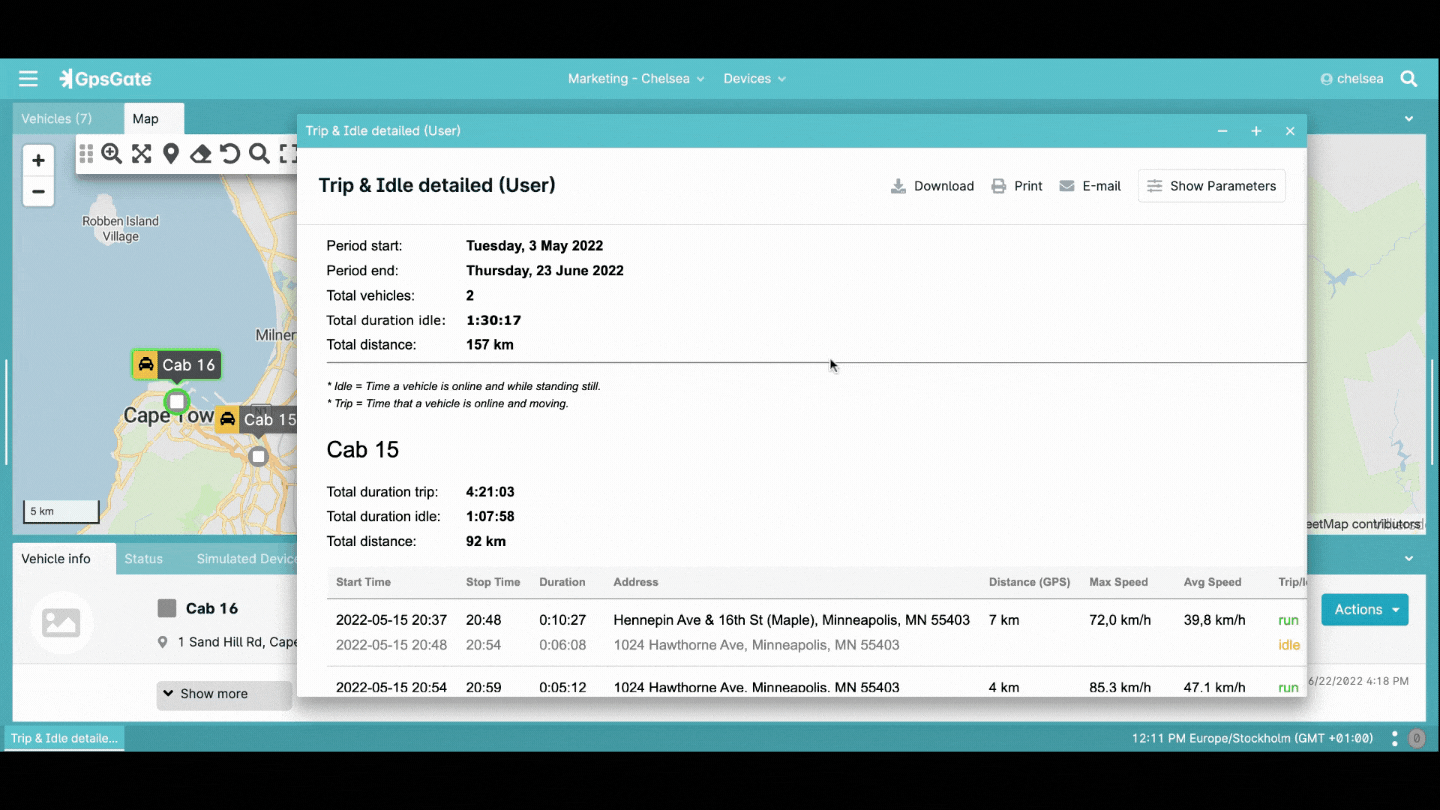 GpsGate gives fleets the right tools for smooth sailing
The cold chain sector is growing rapidly. Grand View Research valued the global cold chain market at 210.49 billion USD in 2020. From there, the expected growth rate is 14.8% through 2028. With the rise in demand, companies depend on the latest IoT tools to stay competitive. GpsGate's powerful and device-agnostic platform gives fleets full visibility over cold chain transport.