GpsGate Product Highlights 2022
In 2022 we focused on core feature updates and additions. We help administrators save time, give fleet managers the data they need, and let operators work smarter. Data was also a large focus in the past year: increased data security, automation, better fleet data presentation, and reporting. Let's look at some top features from 2022 that help fleets be more efficient.
Much of our work tied to our mission of making fleets greener, safer, and more productive. Our partners rely on us to provide software solutions that meet their fleet customer needs. We also aim to provide the best service and support. To learn more about how we empower partners with tools like solution selling, click here. We publish monthly release notes, but in case you missed anything, we've gathered some feature highlights of the past year.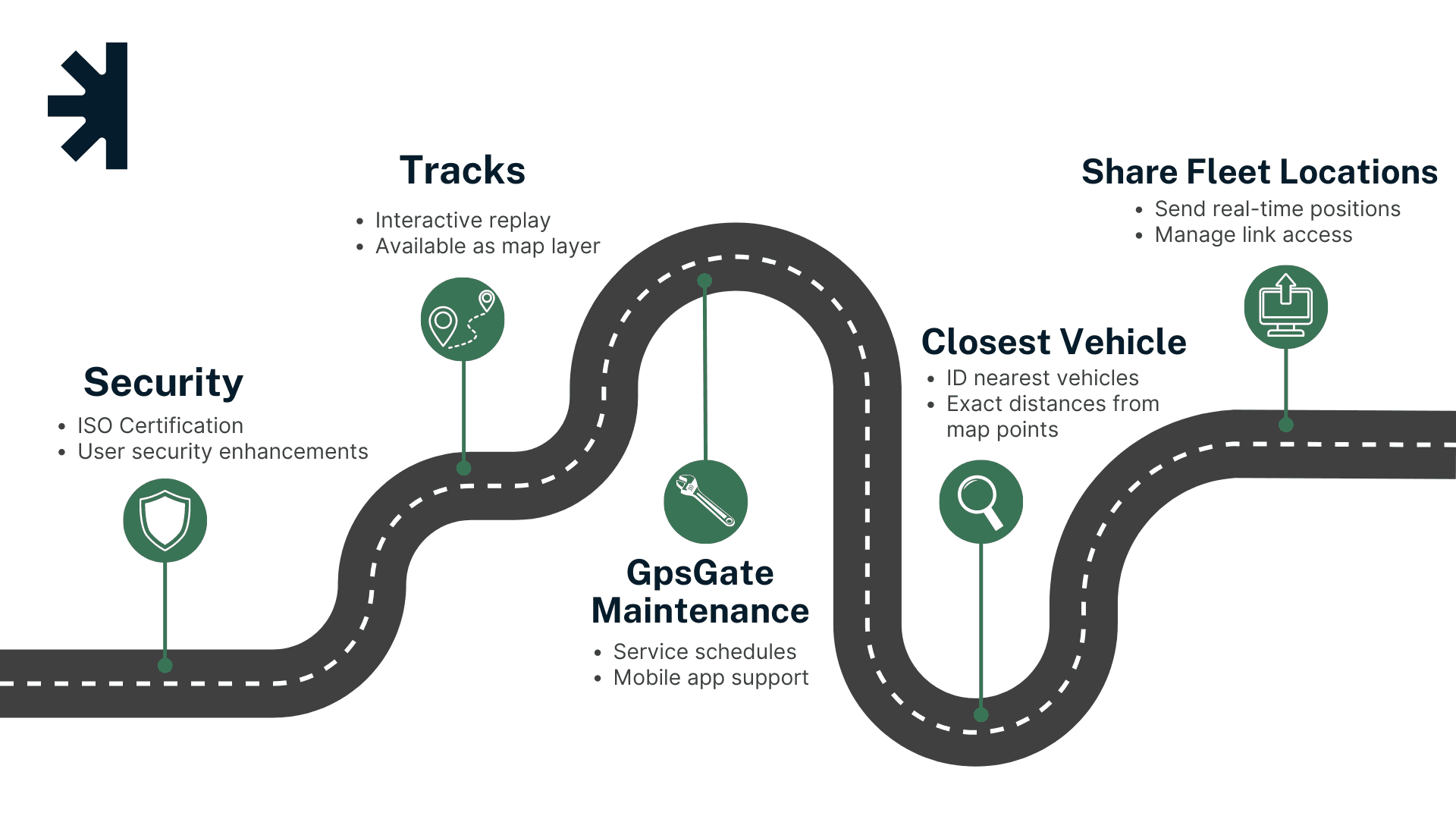 Maintenance - NEW!
Fleet managers need to keep vehicles in good condition and costs down. GpsGate Maintenance, launched in beta for Cloud accounts, is the answer.
With Maintenance, you can schedule and manage preventive maintenance for fleet vehicles. You can also track maintenance costs for parts and labor. This helps fleet managers keep their vehicles road ready. They can also identify vehicles with higher than average maintenance costs.
Maintenance also includes a smartphone app for iOS and Android. The app includes the maintenance jobs and step-by-step instructions for quality control. Technicians can log work as they complete it in the app, including notes and pictures. If they aren't able to complete a step, they can skip it and note that.
Features like Maintenance are a perfect example of our greener-safer-more productive mission-driven product development. Well-maintained vehicles are more environmentally friendly, safer to drive, and more cost-effective because they use less fuel.
We plan on the next iteration of Maintenance in 2023, and we'd love your feedback.
You can find Maintenance in the new GpsGate Store. In the future, this will be the place to enable features like Maintenance, Google Maps, and more.
Closest vehicle tool - NEW!
Even with the visual tool of a map, it's not always easy for operators to find the closest vehicles. They waste valuable time searching the map instead of assigning and dispatching vehicles. The closest vehicle tool lets you right-click on the map and immediately identify the 5 closest vehicles plus their exact distance from the map location.
Operators can quickly identify the best vehicle in the vicinity of a job. Clicking on each vehicle lets you see vehicle tags and other information like vehicle type, fuel level and more. Operators can then decide which vehicle is the right vehicle to dispatch or assign. Learn more about the closest vehicle tool here.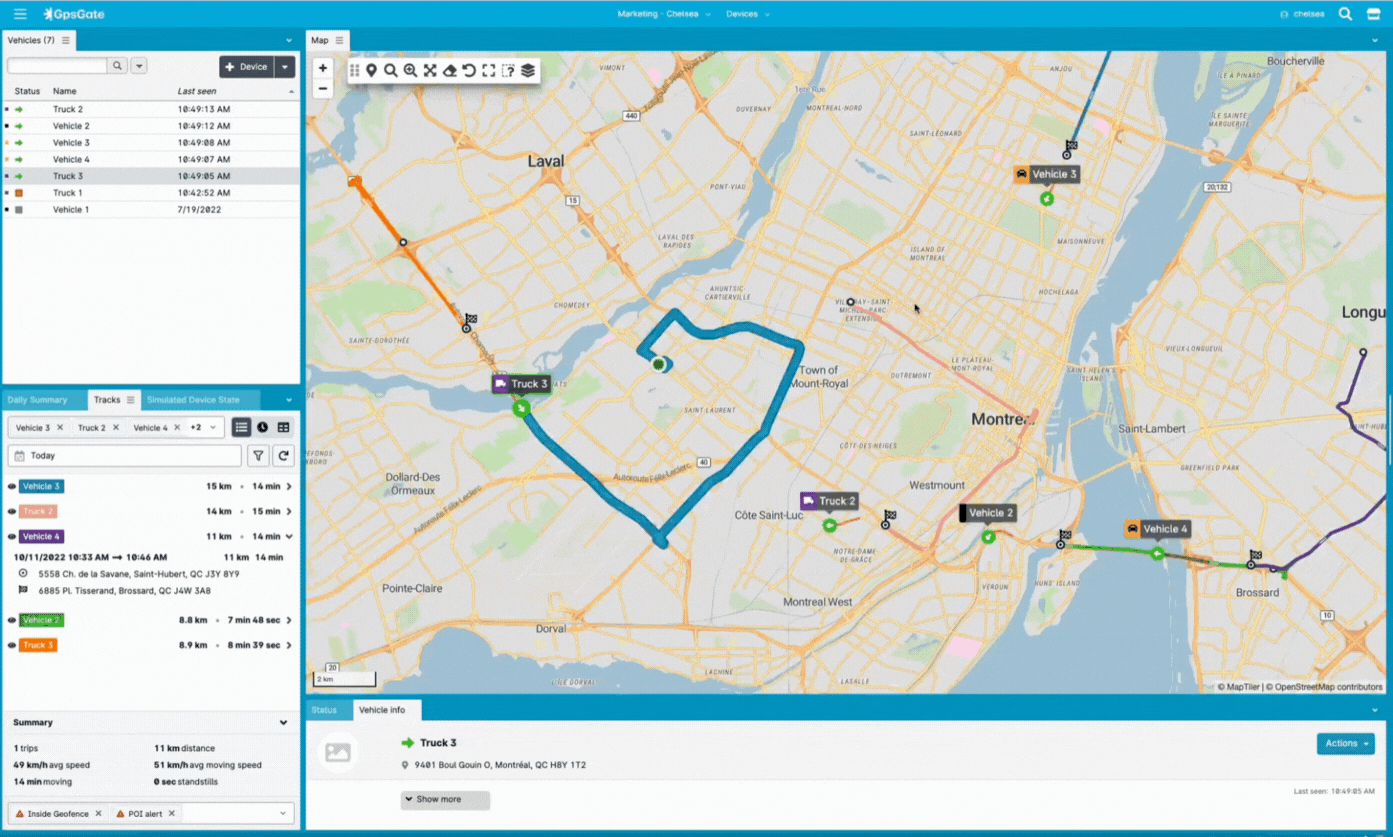 Notification and device integrations - NEW!
Fleet data is only valuable if you can use it. Fleet managers may be out of the office, but they still need to know what's going on with the fleet. They may use our Fleet app, but also want push notifications and fleet data in other smartphone apps they use often. For fast and free data notifications, we integrated Slack and Telegram this past year. Fleet managers can stay updated on important fleet events in the apps they love.

GPS Device integrations for full connectivity! To get data into the GpsGate platform, you can use almost any tracking device on the market. We support all of the major manufacturers. We added new devices and more device signals every single week in 2022. This added up to new devices from 34 companies including Teltonika, Queclink, and more. Check out our list of supported devices here. Want to use a device not listed - contact us!
Product enhancements
The GpsGate team worked on a ton of feature enhancements in 2022.
Tracks got a lot of exciting updates. It's the go-to feature in GpsGate when a fleet manager or operator wants to check on a vehicle's activity history. Historical fleet data is presented in multiple ways: track points, trips, or on a timeline or chart. For even more interaction, it's viewable on the map. What's new?
create a geofence from a track with a click
show bounding boxes on the map to quickly display the area of the track
replay tracks: watch vehicles travel while the map follows them
toggle Tracks as a map layer
Charts: color code vehicles as you choose
Administrators love GpsGate because of our focus on data security and platform customization. Our tracking partners can provide a secure and reliable platform – and their fleet customers can rest easy knowing that sensitive fleet data is safe. Administration is usually not the fun part of a job and takes away from other work. We made some enhancements for better management:
added more strong password options at the account level
the most used Site Admin functions moved into the application so you can manage GpsGate with fewer clicks
more REST APIs for better data integrations
Share location is an essential tool for letting customers or partners know where a vehicle is the real-time. You generate an expiring link to share a single vehicle's location – for any time interval you please – one hour, three hours, a day, or any custom time limit. Customers stay updated on ETAs and operators can focus on work instead of updating customers via phone. What's new? We've made the links much shorter so that you're sharing a short string of characters rather than a very long URL. You can also manage live links. With one click, view all active links and remove access at any time instead of waiting for them to expire.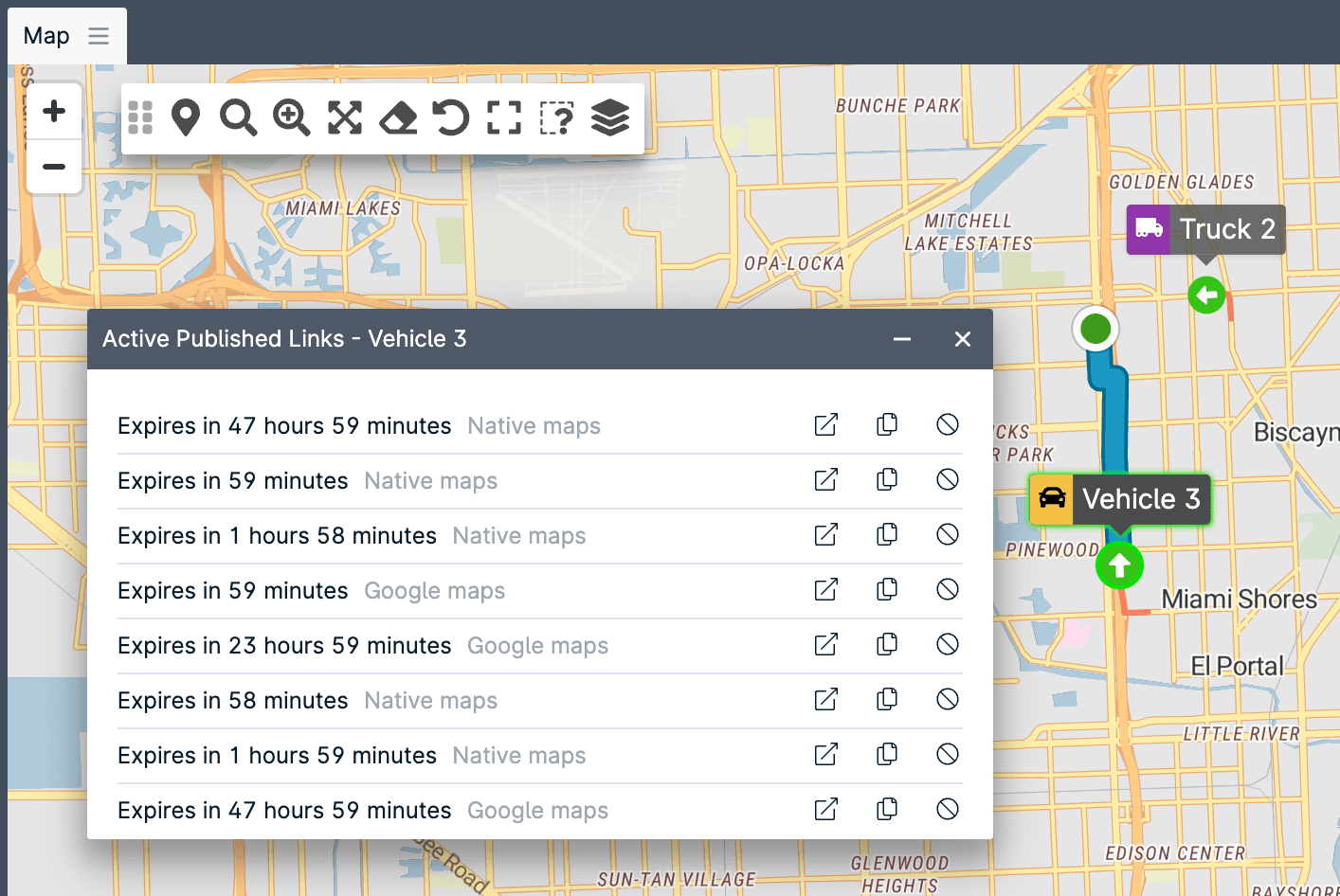 GpsGate comes with a built-in native map and also supports Google Maps, ESRI ArcGIS maps, custom maps, and more. This means you can track anywhere in the world, with changing terrain and landscapes, newly built roads, and more. In 2022, we made map layers more dynamic with the option to toggle Tracks and ArcGIS as map layers.
A few final golden nuggets?
A new menu search tool so that ALL users can easily find the tools and management areas they need without clicking through menus.
Replace the application's logo and branding by just clicking in the menu bar – a quick way to customize the look and feel of an application for each customer.
The long-awaited Excel exports that make it easy to pull your reports into the format you need for more analysis.
How we achieved it
How did we do all of this (and more!) in 2022? Hard work. Skills enhancement. A growing team. Our development team works hard and is always looking to grow their skillsets. They attend conferences and do peer programming. We use agile principles, focusing on continuous improvement and frequent releases. This frequency means our partners and their fleet customers get access to the latest features faster. We never sacrifice on data security. We achieved ISO 27001 certification in 2022 and keep information security management at the core of everything we do.
To learn more about GpsGate and how we work, check out our company highlights for 2022.