GpsGate's top 5 company highlights of 2022
GpsGate has a lot to celebrate from the past year. 2022 was a year of growth across the board at GpsGate. We added several team members, moved our Stockholm headquarters office, upped our security efforts, and provided more customer training than ever before. As a software company with innovation at our core, our goal is to have the best fleet tracking product on the market, with a happy and productive team behind it.
With countless product updates, new staff members, and a brand-new HQ, 2022 is chock-full of GpsGate milestones. Sharing our company highlights sets the stage for the year ahead and shows our customers the work we do behind the scenes to keep fleet operations at a high level.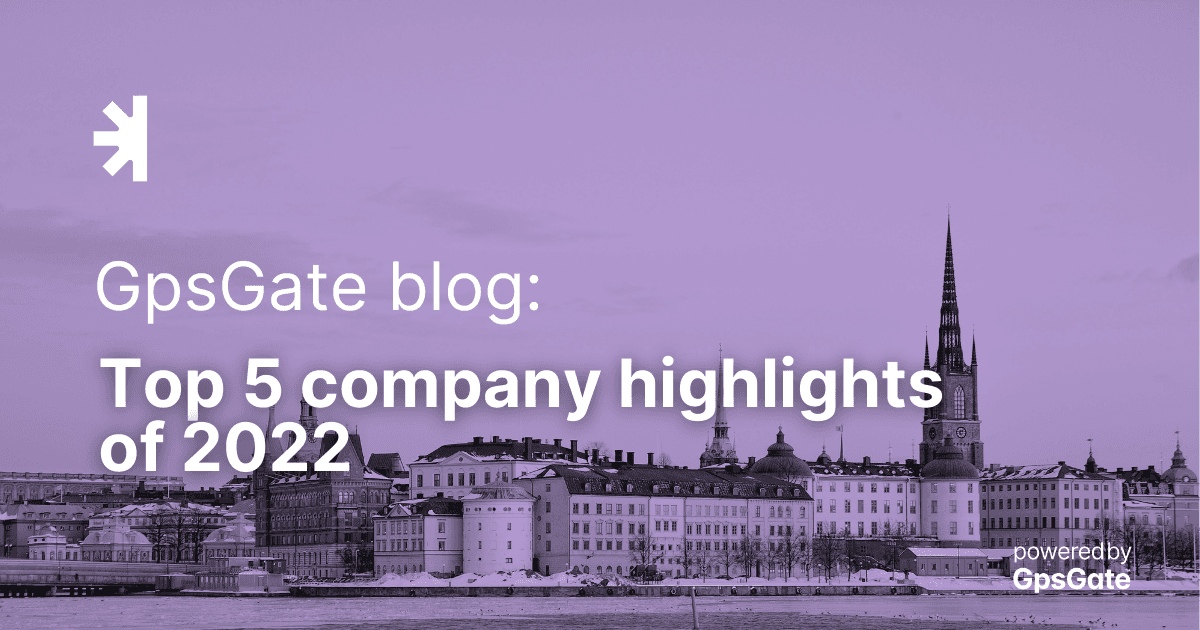 1. Investing in talent and training for stronger teams
Ramping up our training and staff development sets us up to meet our product goals for the future. We've implemented GpsGate Academy, to formalize consistent staff training in our platform. Another element is professional development. We had team members attend 7 fleet management conferences on 4 continents. Front-end and back-end developers got up to speed with the latest in coding and cloud tools at the AWS re:Invent conference, Javascript in Stockholm, and Nordic.js.
To better understand the needs of our tracking partners, our sales team and our solutions engineers completed Solution Selling certification. This customer-centric approach builds on solving customer problems, rather than focusing on feature-heavy sales cycles. This year, we've even offered solution sales training to our customers, 1 mini session on-site in our Stockholm offices and two webinars for hundreds of attendees.

2. More energy meets more space – New Stockholm HQ
GpsGate's new Stockholm headquarters is spacious. Its 3 floors were designed to give team members space for focus with room for flexibility, collaboration, and creativity. A large kitchen and dining area gives us ample room to enjoy our Wednesday breakfasts, company meetings, team lunches, and office happy hours.
We invited GpsGate friends, family, and partners for a vibrant kick off of our new space. Office tours, local food and drink, and games brought a festive feeling.

3. First-ever GpsGate Partner Days
GpsGate powers fleet tracking companies in over 150 countries. We're proud of the solutions we provide to meet unique business cases across fleet types. Our tracking partners work with public transportation, cold chain logistics, rental companies, ground transport, last-mile delivery, emergency services, and more. We use the latest technology to support and work with our partners, but nothing beats spending quality time together in the same space.
To launch our new office, we invited tracking partners to join us for our first-ever GpsGate partner days. Tracking partners presented their tailor-made solutions in green transport, school bus tracking, waste management, cold chain, and security cases. We value the ambitions of our customers to grow their operations and offered a mini session in Solution Selling to streamline the selling process within their own teams.
Want to shorten your sales cycle? Contact sales@gpsgate.com to improve your sales process.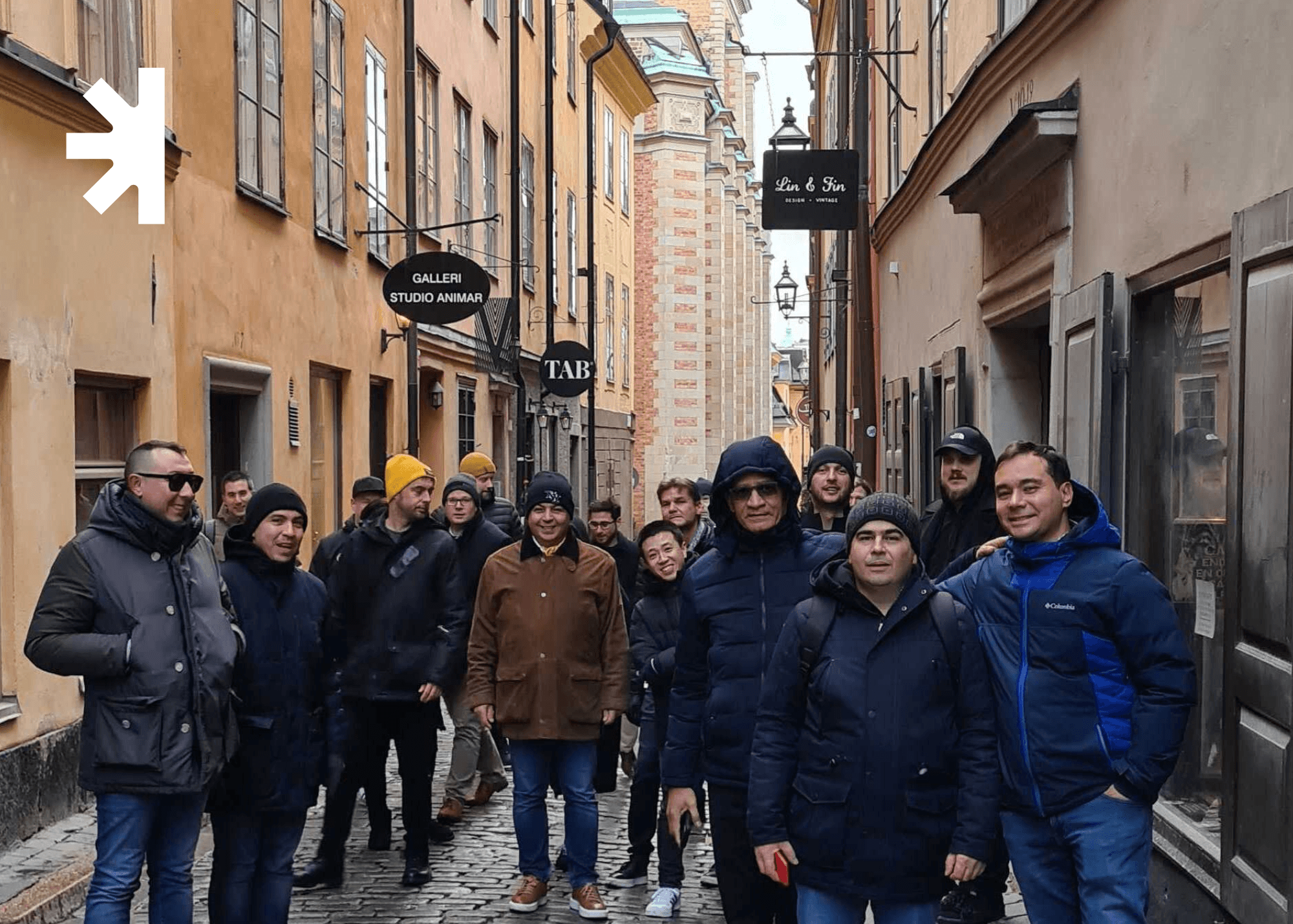 4. ISO 27001 certification for information security
Leading the field in fleet tracking means we value privacy and data security. Keeping sensitive fleet information safe is at our core. After achieving ISO certification this spring, we've added extra training and protocols so that all our team members adhere to privacy best practices.
The best thing about our ISO certification is that it is ongoing. Achieving ISO accreditation is a company-wide effort. The experts at Certway and Scandinavian Business Certification helped us build on our existing security practices. GpsGate will undergo consistent audits to ensure that we're always keeping a security-focused mindset.
5. Greener, safer, more productive 2022
Greener. Safer. More productive. GpsGate's mission has come into focus this year. Vehicle fleets have a broad impact on our cities and our infrastructure. With better data and fleet analysis, we know that we can improve the carbon footprint of fleets, honor safe working conditions, and turn a profit while doing it.
Greener
Cutting fleet dependence on fossil fuels means longer lives for fleet vehicles. Lowering fuel cost and extending vehicle lives becomes a reality with accurate data and better fleet analysis. GpsGate features like Maintenance ensure that fleet managers have comprehensive oversight on vehicles that cost too much to maintain.
Safer
Above all, fleet operations need to be safe for drivers, for cargo, and for community members. GpsGate's features mirror safety compliance with features like event rules to track driver behavior. Comprehensive reporting creates means fleet managers have the data they need to put changes in place to improve fleet safety.
More productive
In short, we're trying to help fleets do more with fewer resources. Honing in on driver and fleet-wide trends reduces expenses and makes teams more efficient. With robust data from GpsGate, it's easier to track resources and budget for future fleet operations.
Growth for you means sustainable growth for us
Reflecting on 2022's accomplishments excites our team for the work ahead of us. With customers at the center of our growth, we're streamlining our product to deliver on our promise of the most flexible, scalable, and customizable fleet tracking platform on the market.