New Tracks features
Tracks and its track point data are crucial to fleet managers and operators in their daily work. We've added lots of new functionality around track points this month to help streamline fleet operations.
The new Tracks is front and center in GpsGate and we're continuing to optimize it. It's a critical part of fleet management and we've added more functionality to help improve workflows for daily operations. By strengthening the bi-directional connection between the maps and the Tracks panel, your telematics data is easier to access.
New Tracks features
Track points on the map
We've added a couple ways to locate and visualize track points on the map.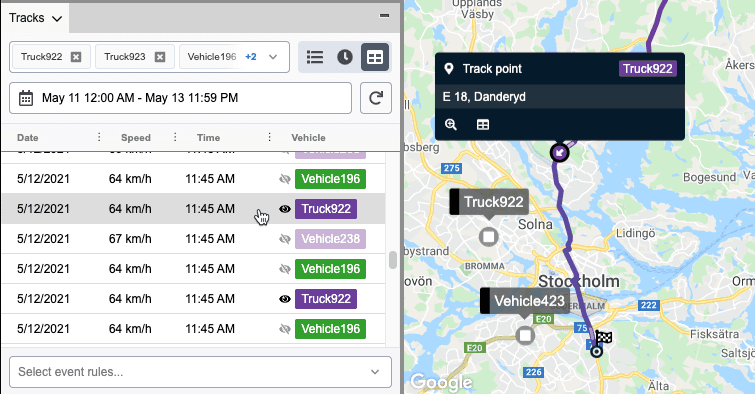 First: when viewing in the track points table. The track points table shows a lot of individual track points within a trip. You can now click on any track point in the table to show it on the map. This lets you quickly visualize a single track point location.
Second: when viewing a trip on the map. As you view trip data on the map, specific track points must sometimes be located. You can now click anywhere within the trip on the map - and the closest track point to that location will be shown. It helps you easily drill down to the details you need.
Manipulating track point data
The track points panel shows lots of data. We believe that finding specific track points should still be easy. You can now sort the columns in the track point list. This can help you find the information and trends that you need in a flexible way.
Managing data processing expectations
Telematics generates a ton of data. GpsGate's Tracks lets you view data based on the dates, any combination of vehicles in the fleet, and even filter by event rules. Operators and fleet managers sometimes need to view larger combinations of data - or simply select a large combination of data without thinking. These large datasets can take a lot of time to process and slow down your work.
We've added an alert when a dataset is larger and may take some time to run. By drilling down to the data you really need by selecting the exact date frame, the necessary vehicles, and filtering with event rules, data analysis can be more efficient. Not only does the data process faster, but it's easier to find and analyze what you need.
ArcGIS
A small update to ArcGIS that is great for customers with this use case is live. The ArcGIS map can now handle maps that are hosted via enterprise Web Adaptor Portal URL:s.
More details
For all of the release details, visit the October release notes. For access, update your server to the latest monthly release.