Skyangel: experts in fleet security & GPS monitoring
Safe cargo and safe people. That's the mission of Skyangel – one of the largest players in IT/GPS telematics in North and Central America. Skyangel's team uses GpsGate to power a multitude of cargo transport on land and at sea. A group of technicians, developers, and innovators used GpsGate as a foundation to build a robust fleet management platform. From their in-house monitoring centers, the ISO-certified SkyOne and Copernico teams work around the clock to protect cargo for customers like Mabe and DHL Supply Chain.
Services provider
Skyangel
Customers
850+ corporate clients in consumer cargo
Software
GpsGate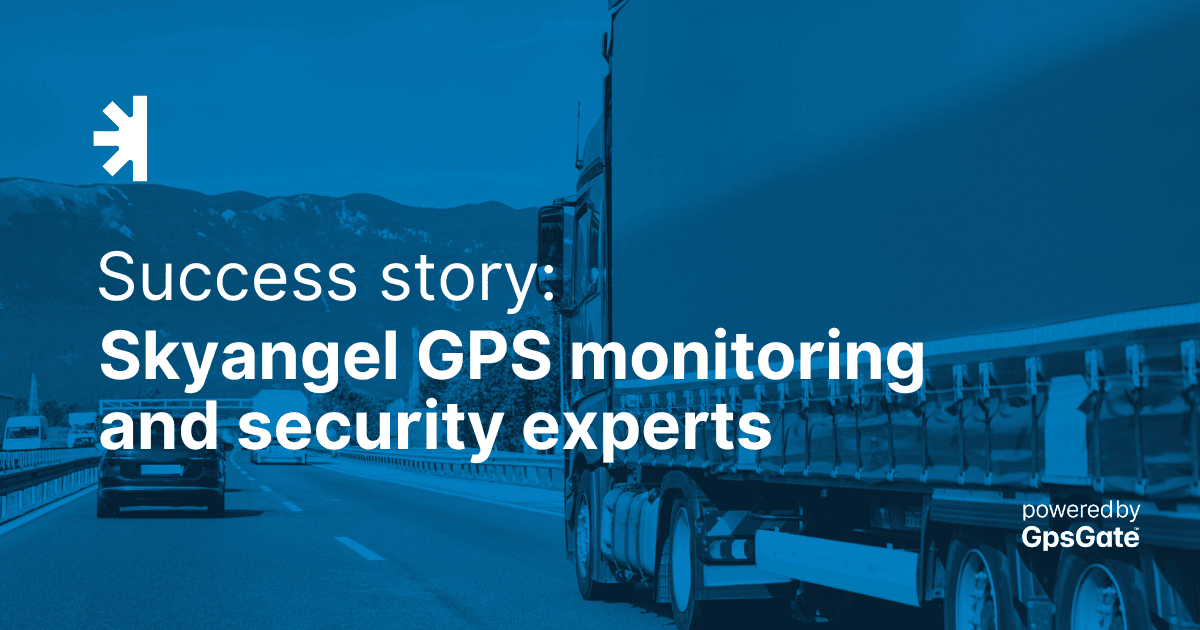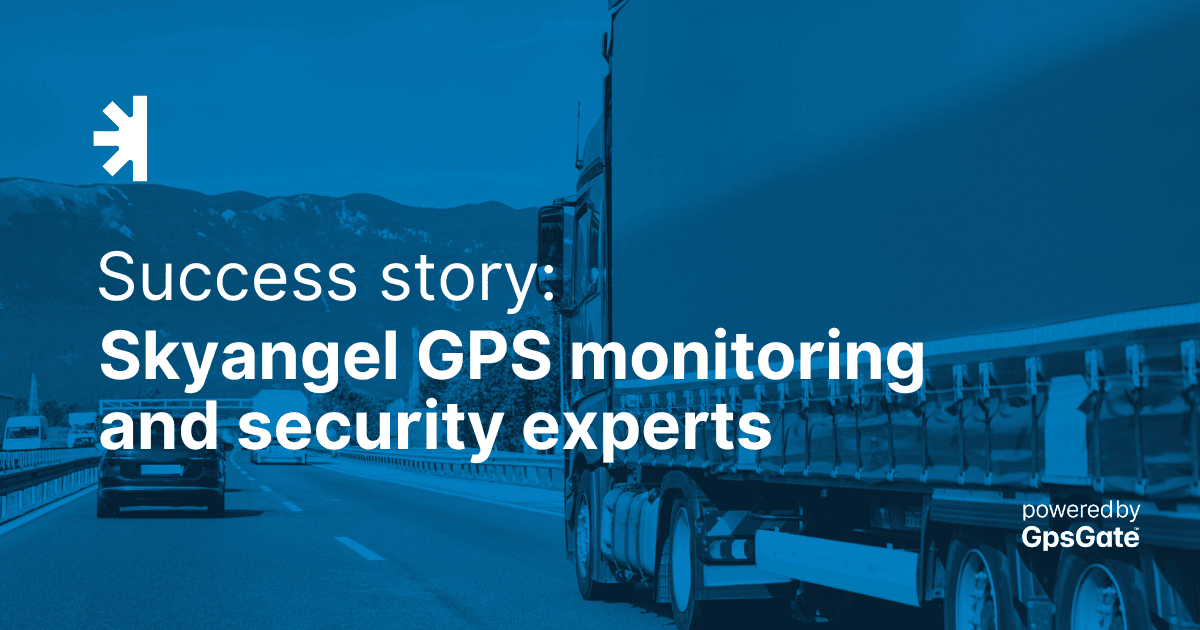 The challenge
Finding a fleet tracking platform with unstoppable system uptime and customization to serve diverse maritime and terrestrial fleets.
The solution
GpsGate's responsive software empowers Skyangel to go big. 12,000 international cargo units are individually configured to the monitoring platform for end-to-end visibility.
The benefits
A reliable, powerful fleet tracking platform that customers love. Security agents deliver unbeatable real-time tracking and a 95.3% recovery rate of stolen vehicles.
Skyangel uses GpsGate to keep cargo thieves at bay
Mexico City is an epicenter for vehicle hijacking. Valuable imports like pharmaceuticals and electronics can bring in enormous sums for cargo thieves. Mexico-based Skyangel uses GpsGate to keep drivers safe and prevent catastrophic loss of cargo. Over 200 virtual custody agents work in individualized customer applications to monitor thousands of fleet vehicles at a time. This allows Skyangel to automate their processes and meet the unique tracking needs of each customer. In the event of a stolen vehicle or driver SOS, Skyangel partners with local authorities to dispatch help at a moment's notice. This service boasts an incredible vehicle recovery rate of 95.3%.
In-depth study
GPS monitoring companies have to stay online at all times. As Skyangel grew, their operations became more complex. Software hiccups with their previous provider cost them time, money, and threatened customer relationships. That's why they made the switch to GpsGate's advanced fleet management software. Today, hundreds of multinational companies trust Skyangel to keep their cargo safe as it crosses borders over land and sea.

For Skyangel, customization is key. Central to their business model is the belief that every customer deserves accurate and up-to-date fleet data. They begin each new customer relationship with a risk assessment that considers region, commodity, and seasonal spikes in security threats. From there, the Skyangel team implements event notifications, holistic reporting, and map-specific routes so that each fleet customer has a robust, tailor-made solution.
"We have found a great ally in GpsGate. With GpsGate, we have an excellent tool that allows us to automate tasks, improving our customer service."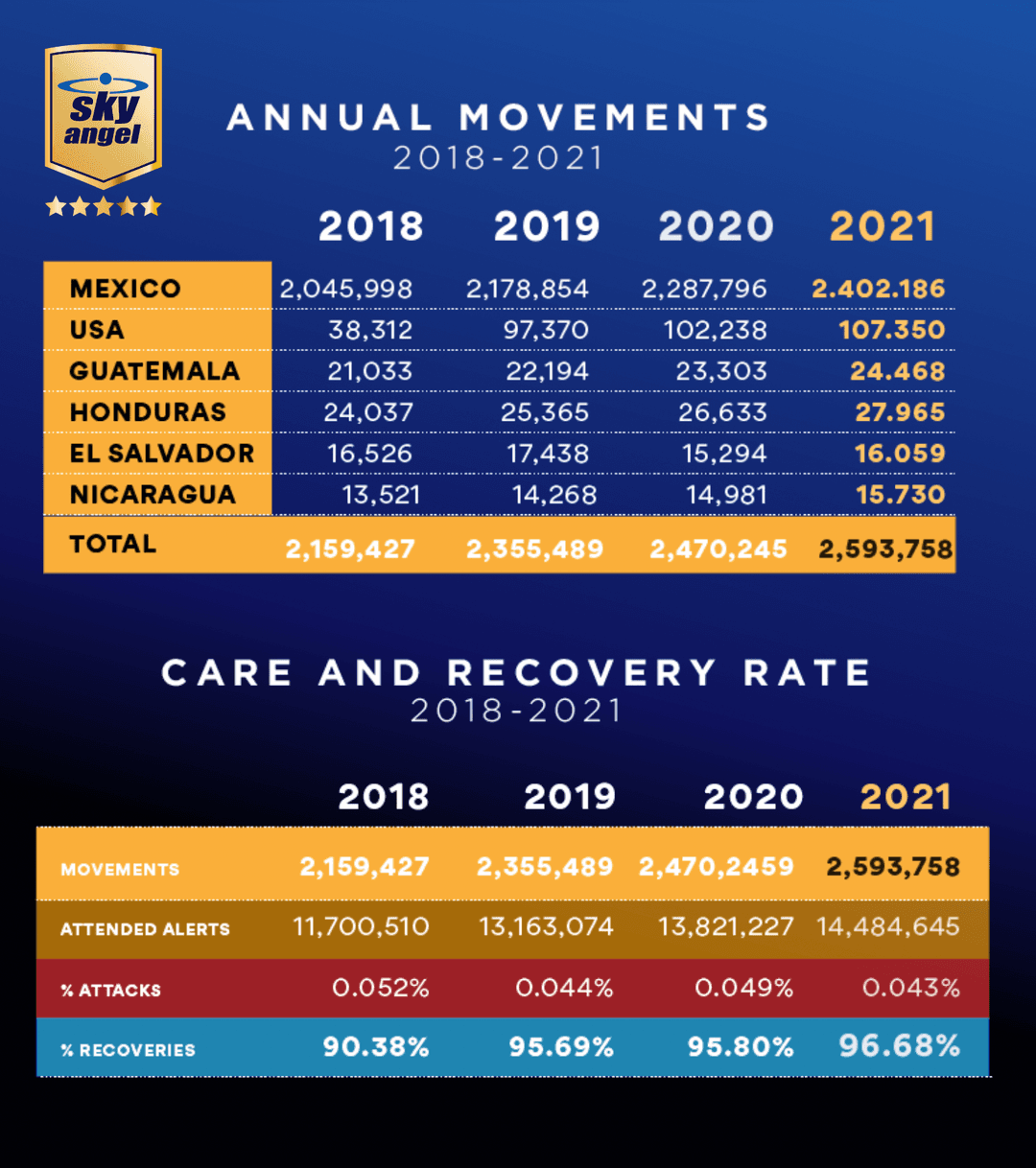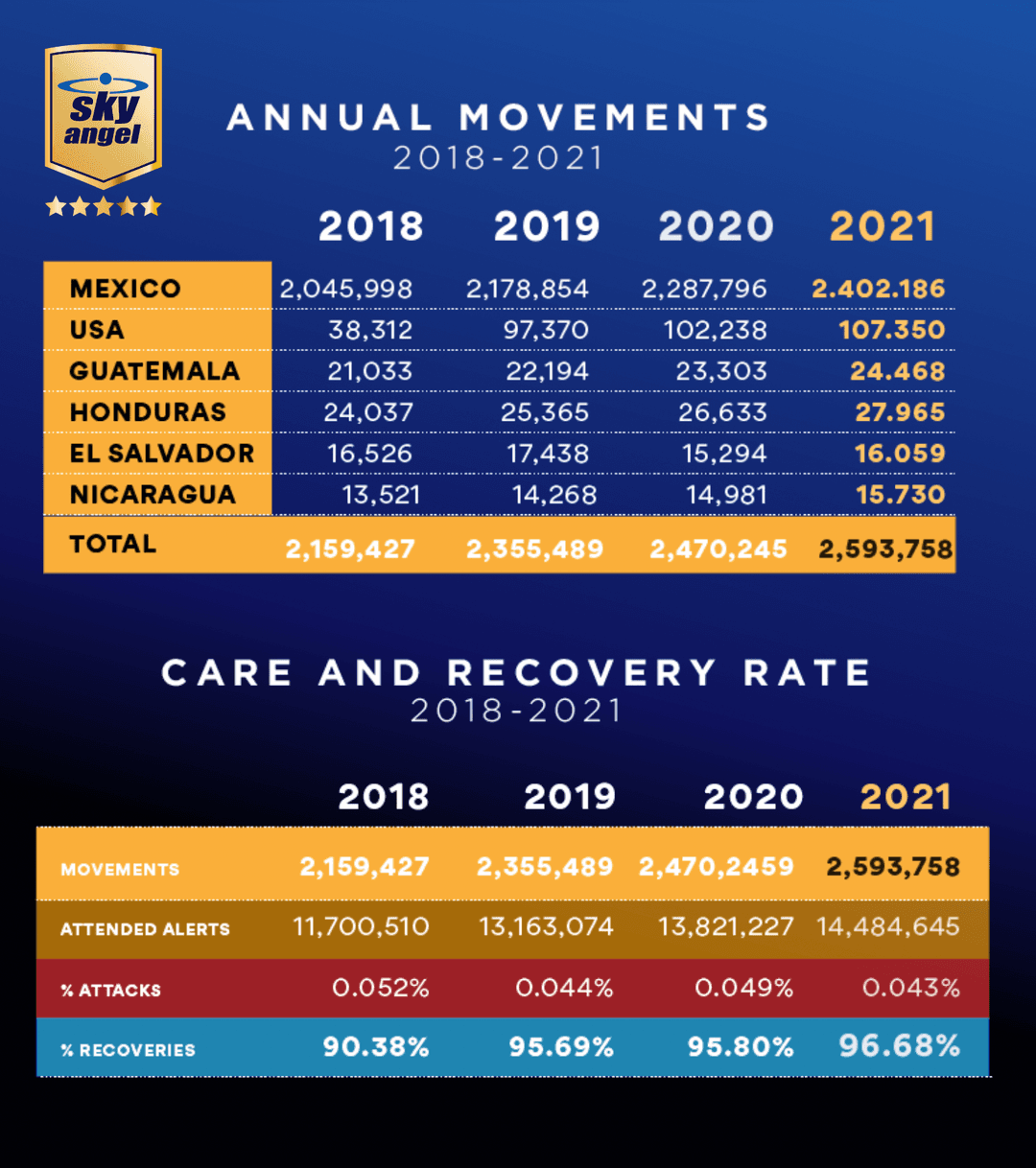 How does Skyangel use GpsGate?
Precise real-time tracking with any device and accessory
Each cargo business case is unique. Skyangel guides customers towards an optimized security model that will work best for them. Beyond GPS trackers, tanker trucks need fuel tamper sensors, cargo trucks use lock sensors, and public transport vehicles are fitted with cameras and panic buttons. Signals from these devices are then visualized in GpsGate's user-friendly platform. Fleet managers can see live vehicles en route, check delivery status, and track more advanced signals, like temperature and driver ID.
Jamming detection for advanced protection
Fleet managers continue to add more advanced tools to their IoT operations. Unfortunately, cargo thieves are upping their game too. In Mexico, RNTF reports that GPS signal jammers are used in 85% of vehicle theft cases in Mexico. This tactic blocks all communication going to and coming from GPS trackers and accessories. Once a vehicle theft is in process, signal jammers prevent driver SOS signals and vehicle locations from reaching the control room. This allows thieves to steal precious cargo with a low risk of getting caught.
To prevent this from happening, Skyangel has implemented jamming detection within GpsGate. Once an attempted signal change has been detected, the team at Skyangel responds immediately. First, they make contact with the driver and use live data from GpsGate to assess the situation. From there, Skyangel contacts local authorities and gets drivers the help they need in emergencies.
Google Maps better serves local fleet members
GpsGate supports multiple map types - our own native map, ArcGIS, Google, and even nautical maps. When time is of the essence, local maps help all members of the fleet get dispatch coordinates without confusion. Skyangel uses Google Maps to better serve local drivers and ensure that end customers can understand fleet details in their local language – Spanish or English.
Route geofences and route deviation for total visibility
Route geofences allow drivers and control rooms to follow predetermined vehicle routes. Further, cargo drivers have direct contact with Skyangel during the dispatch process. If a fleet vehicle deviates at all from a route geofence, an alert is triggered in GpsGate and the monitoring agent contacts the driver swiftly. This eliminates the threat of foul play and creates full visibility over fleet operations.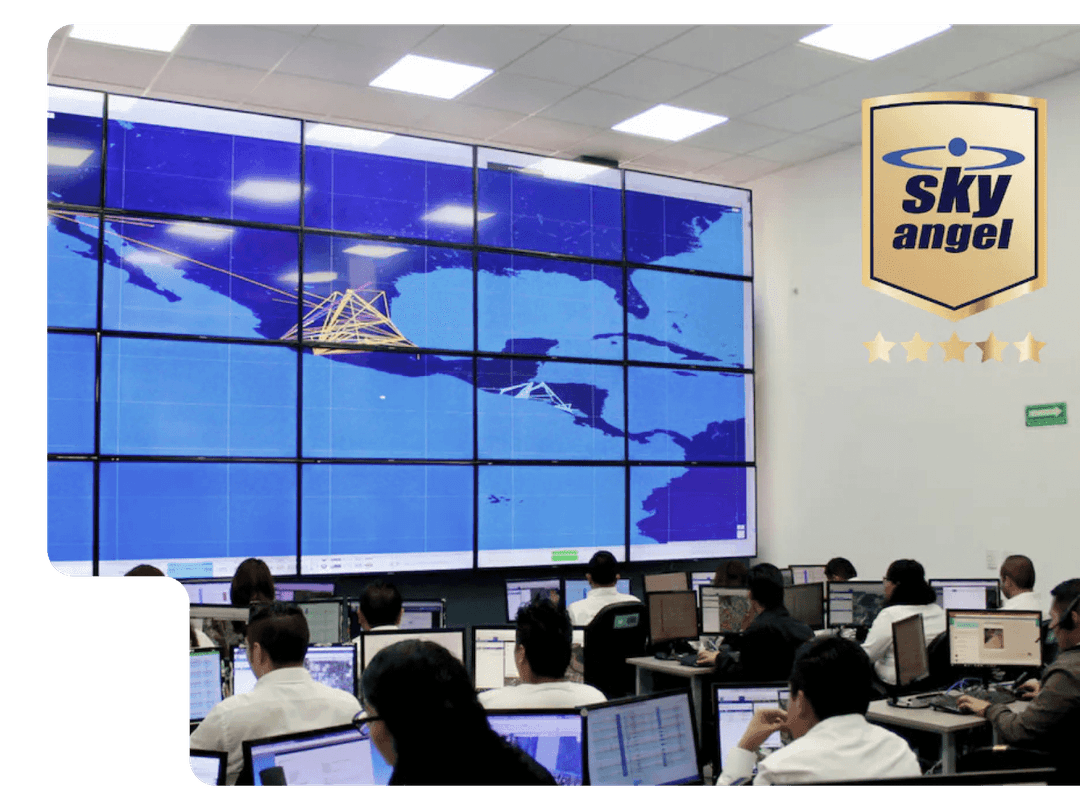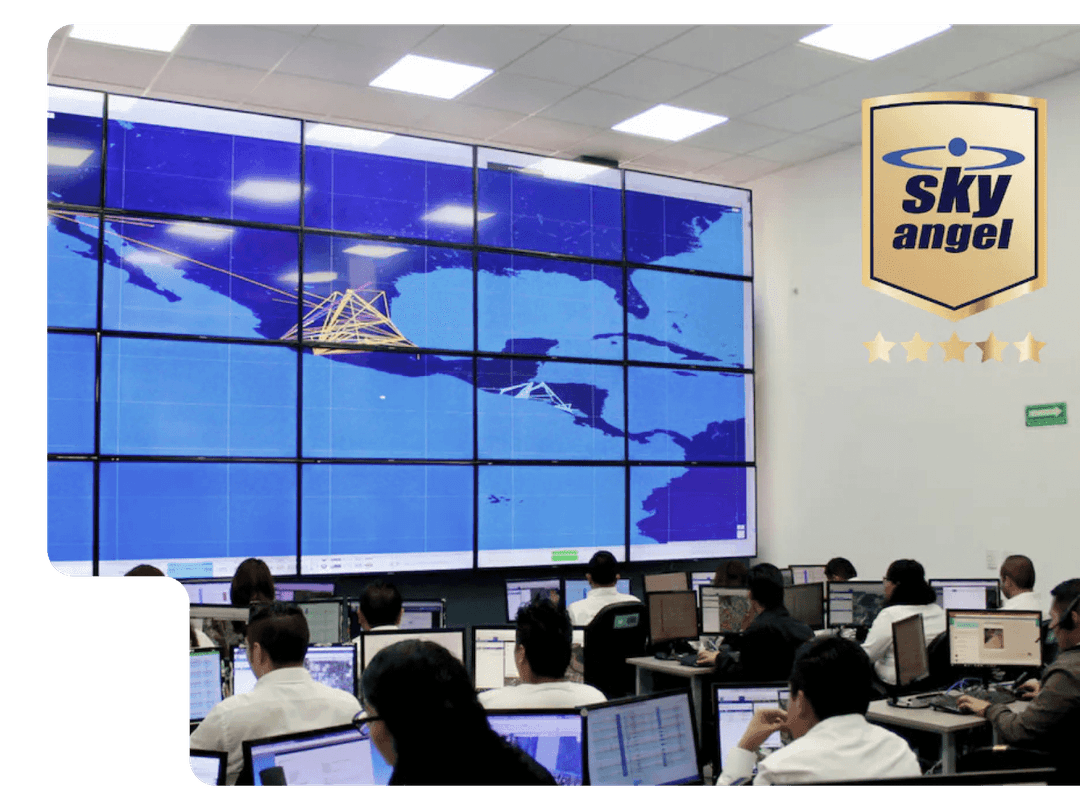 Custom points of interest automate fleet movements
Within GpsGate, application maps are customized to feature important places. Points of interest (POIs) are created to mark specifics points like fill stations, loading areas, customer warehouses, and secure parking. When fleet vehicles approach a POI on the map, fleet managers get event notifications in the application, via SMS, or by email. Skyangel and its customers use this to monitor complicated transport sequences without missing a beat.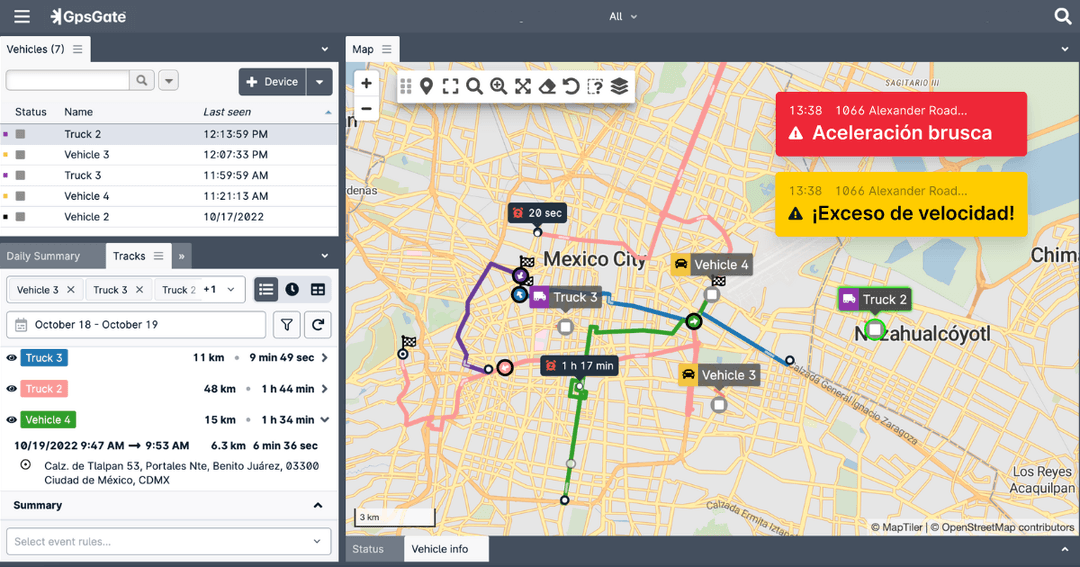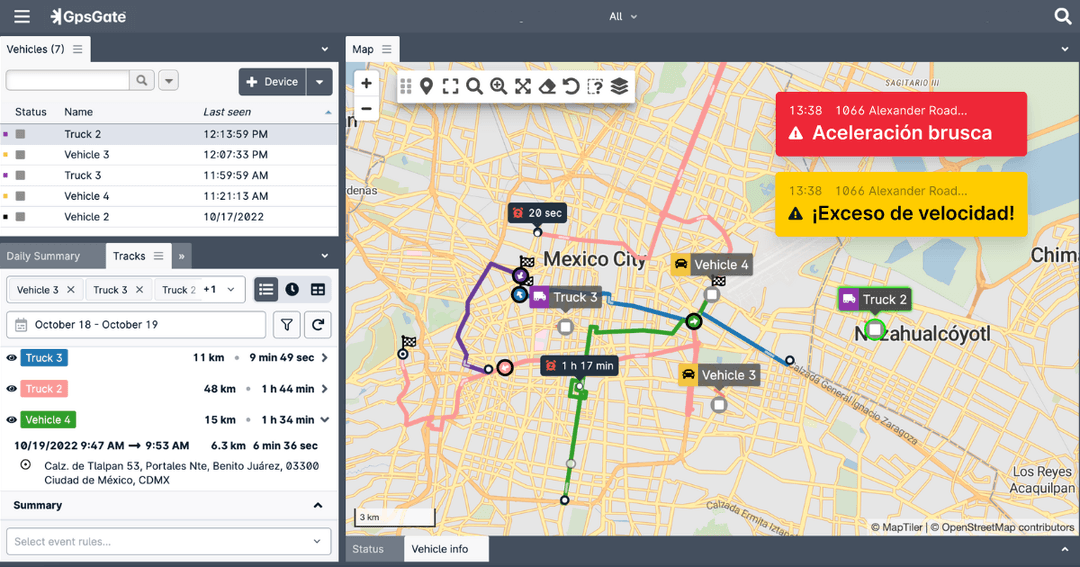 Historical reporting sparks customer growth
Skyangel's GPS monitoring services are just the beginning. For cargo fleets to improve operations over time, Skyangel uses GpsGate's advanced reporting tool. Fleet managers can dial in on patterns that expose dangerous driving behavior, excessive fuel use, and flag incidents in the delivery process. With total oversight over fleet operations, it's easy to make improvements that cut costs and increase profit.
What are the outcomes?
Strong infrastructure
High responsiveness and accurate data from GpsGate gives Skyangel the horsepower they need to provide great service. Strong network uptime means that fleet owners never have to worry about driver and cargo safety - eliminating the risk of downtime and unhappy fleet customers.
Strong reputation
Skyangel has been honing its expertise for years. With GpsGate as its back-end fleet management software, Skyangel moves forward with a partner they can trust. With GpsGate's transparent pricing model, it's easy for Skyangel to see exactly how much they are using each month, leading to cost forecasting and savings over time. Reliable service and excellent support keep GpsGate and Skyangel's relationship strong.
Sustainable growth for Skyangel and its customers
Skyangel empowers their customers to grow. With GpsGate, they assist each customer in setting fleet KPIs and provide the statistics they need to benchmark successes. Streamlining fleet operations sparks growth - for Skyangel and their cargo fleet customers.
A limitless future for Skyangel
Skyangel's partnership with GpsGate gives fleet customers a safe and steady solution. Whether it's cold chain transport, precious cargo, or high-level GPS monitoring, Skyangel has built a system to handle it expertly. Solid infrastructure and endless customizations will allow Skyangel to scale and excel to meet the fleet challenges of the future.

Read our press release in English about our work with Skyangel.