Fleet management for snow removal fleets
For many municipal governments, wintertime equals snow removal. The Minnesota Department of Transportation in the US employs 800 snowplows to cover 30,000 lane miles of roadway throughout the state. Not only is this an expensive endeavor, but winter maintenance must also be done safely and efficiently. Fleet managers are responsible for optimizing plow routes, measuring de-icing material, and tracking fuel use and driving hours. But how can fleet management with GpsGate make that job easier? Let's take a closer look.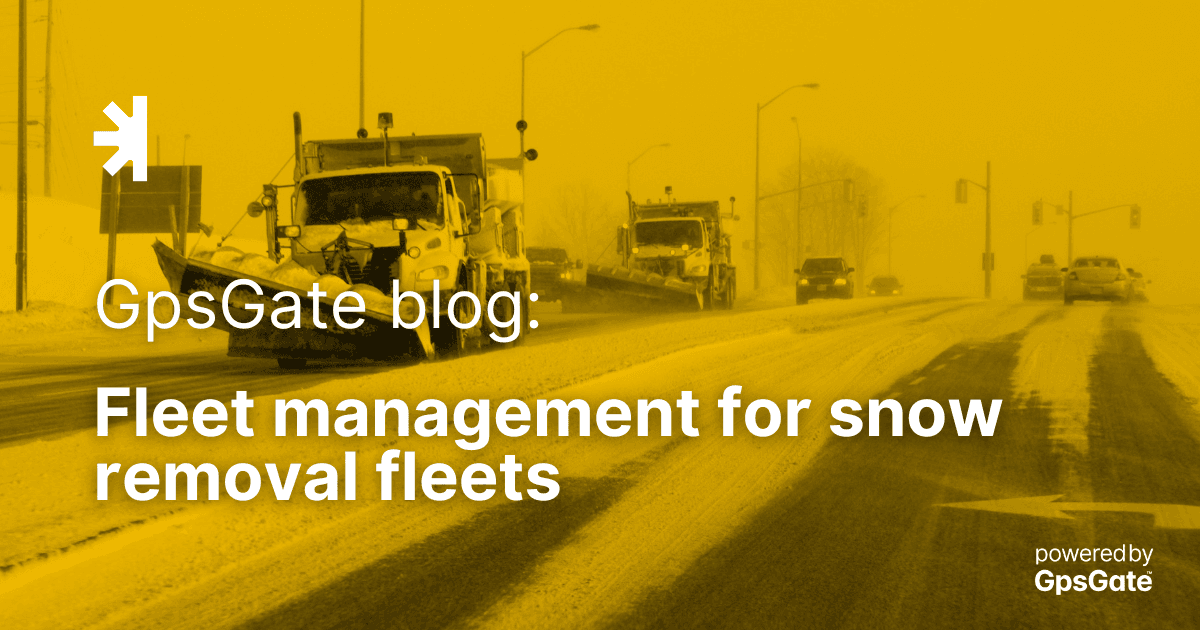 The Federal Highway Administration reports that state and local governments in the United States spend 2.3 billion dollars annually on snow removal. With 70 percent of the US population living in snowy regions, people depend on winter road maintenance to get them safely from A to B. That's why it's vital to track driving time, idle time, fuel use, and material deployed by snowplow fleets. Regardless of location, GpsGate's fleet management software can help your snow removal program save money through budget forecasting, driver programs, and proactive maintenance.
State and local governments partner with GpsGate for advanced, real-time fleet tracking. Learn about their successes here.
GPS snowplow tracking 
Using GPS technology to track snow plows is essential in terms of public safety, efficiency, and cost savings. When snow removal rigs have tracking devices, fleet managers can view real-time locations of all their snowplows at any given moment, and measure their time spent on the roads. With GpsGate, fleet data is used to optimize routes so that more roads can be cleared in less time with fewer plows – thus saving money on fuel costs while also reducing labor costs. Plus, this technology helps make sure that snowplow drivers stay safe by letting managers know when they're running behind or having other issues on the road. 
GpsGate's publish location function is used to share live locations of snowplow drivers. In some instances, this data is sent to public platforms to inform residents of the roads that have been cleared - creating smarter and safer commute plans.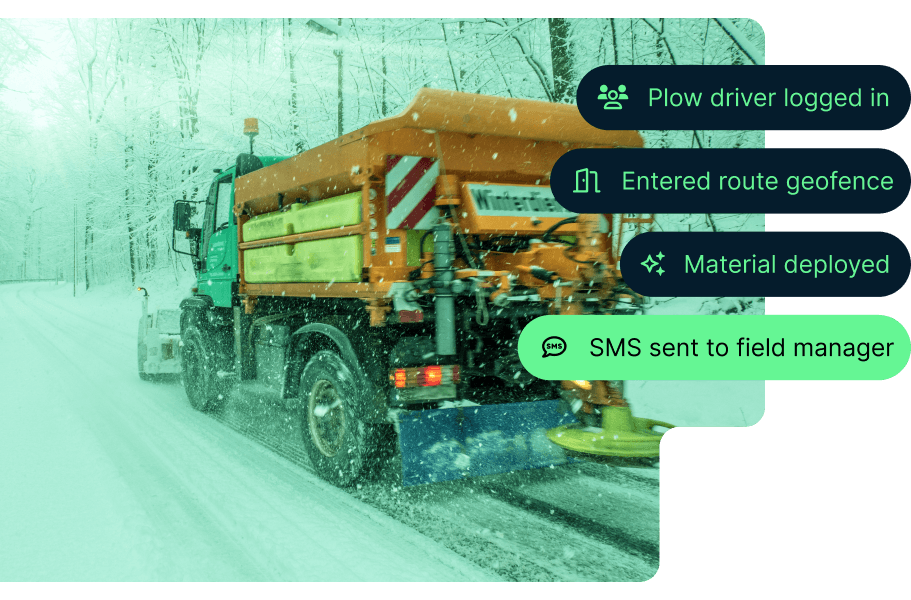 Monitoring driving time 
For snowplow drivers, long, demanding shifts are the norm. To ensure driver safety and protocol is always followed, it's important to track driving behaviors and time spent on the road. This helps agencies comply with federal regulations when it comes to overtime pay and other labor laws. By tracking driving in GpsGate time, fleet managers can make sure their employees are being paid fairly while using taxpayers' dollars appropriately. Further, event rules can be configured to flag dangerous driving behaviors like speeding, harsh braking, and acceleration. GpsGate reports can help you track driving behavior per driver, vehicle, or fleet group. Reports are customizable and can be sent automatically via email or SMS.
Snowplow vehicle maintenance
Snowplows are expensive to buy and maintain, and it's important that they on the roads at a moment's notice. Tracking equipment health and vehicle maintenance is another element of public fleet management. This includes scheduling regular servicing and inspections so that any potential problems can be identified before they become serious issues. GpsGate Maintenance helps fleet managers keep a close eye on vehicle problems and reduce overall downtime.
To improve the performance and lifespan of snowplow vehicles, regular maintenance is key. GpsGate Maintenance gives allows fleet managers:
Create and track service schedules
View Maintenance logs
Identify vehicles with consistently poor performance
Forecast upcoming vehicle costs
GpsGate Maintenance is paired with a mobile app. Via this app, mechanics log tasks like oil changes and air filter replacement with notes and photos.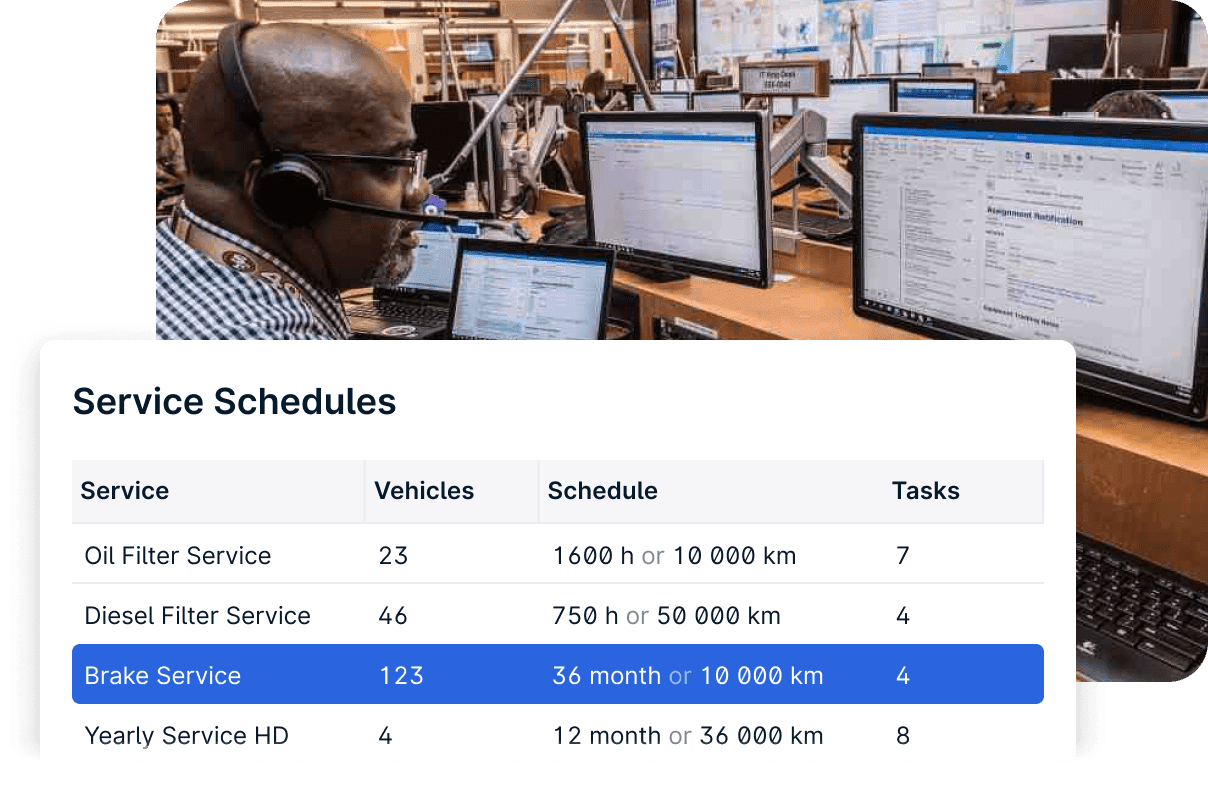 Snowplow route optimization
Optimizing snow plow routes is a logistical challenge. GPS tracking allows you to determine the best route for your snow plows, based on historical data and real-time conditions. With tools like route geofences, you can ensure that drivers stay on course to their assigned routes. If not, a real-time notification will flag a route deviation to alert the fleet manager. Route optimization can be done within the map platform that works best for your team, like Google Maps and ESRI's ArcGIS map layers. This gives fleet managers precise location-specific data to include rural road conditions and local weather updates. For quick, on-the-go updates, GpsGate's Fleet app keeps all team members in the loop, regardless of their location.

Measuring salt, sand, and gravel used on roads 
Beyond clearing roads of ice and snow, snowplow fleets also deploy materials to the roads - before, after, and during winter storms. De-icing spray, salt brine, sand, and gravel are commonly used materials. Snowplows are fit with sensors and accessories to track the amount of material deployed on the roads. This data can be sent to GpsGate for more transparency on material use. Without accurate data, it's easy to spend too much money and over-salt roadways. Further, local governments need to adhere to regulations that protect stormwater from pollutants in de-icing materials.
Optimizing snow removal programs with fleet management
Fleet management is an essential part of managing a municipal government's budget during winter months. By implementing vehicle telematics, managing vehicle maintenance schedules, and tracking driving time – all tasks are made easier with fleet management software like GpsGate. Municipalities can save money while also ensuring employee safety and compliance with labor laws. Whether you manage a large city or small town, utilizing fleet management software during winter months is a must to optimize your budget while providing the service your community depends on.