Customer story: Conneqtech's GPS fleet tracking for aerial equipment
When equipment rental company NH Rental wanted to scale up its operations, its goal was to work smarter, not harder. That's why they partnered with IoT solutions provider Conneqtech to get a custom-built fleet management platform. With GpsGate's software, real-time tracking of their airport machines meant scaling up was finally possible.
The challenge
Efficient management of vehicle status and battery life for heavy-duty equipment in dynamic airport settings.
The solution
A fleet tracking IoT solution that allows NH Rental to remotely monitor equipment including battery life and voltage signals for maximum unit uptime. The FMB204 and TFT100 High Voltage GPS tracking devices from Teltonika Telematics send data to the GpsGate platform.
The benefits
Tripled fleet growth, less equipment waste, and fewer maintenance calls. GpsGate's software allows staff to proactively monitor equipment signals for long-lasting equipment.
Keeping up with dynamic airport environments
Airports utilize multiple fleet types. The aircrafts themselves, luggage trailers, tarmac transport for staff and passengers, and various maintenance vehicles. GpsGate end user NH Rental provides airports with aerial lifting platforms throughout Belgium. Aircraft engineers use their equipment to perform maintenance on these large aircrafts. Brussels Airport alone houses 74 airlines, with 236 destinations, and an average of 645 flight movements daily. With a smart solution built by Conneqtech, NH Rental can keep up with the demands of daily operations at major international airports.
In-depth study
IoT experts at Conneqtech
For over 10 years, our partner Conneqtech has been "connecting the physical to the digital" for their customers. Based in the Netherlands, Conneqtech creates a custom telematics solution to serve an impressive range of use cases. Specializing in e-bikes, mobility, and personal care, Conneqtech used its in-house expertise in IoT to create a dynamic fleet management service that uses GpsGate software. Conneqtech creates a tailor-made experience for the end user - solving the most complex business problems with ease.
Customer case: NH Rental
For operators of electric booms and scissor lifts, battery maintenance, and replacement is one of the most significant expenses. Difficulty monitoring battery charges meant that NH Rental replaced equipment more often than necessary. Batteries are optimized for heavy use and quick charging in even the coldest weather conditions. As new products like Genie's lithium-ion batteries offer a more eco-friendly and rugged design, equipment costs increase. A typical battery costs upwards of 500 Euros, depending on the model, and that doesn't account for remote accessories. For NH Rentals, monitoring battery voltage and charging levels was Conneqtech's first priority.
We are awed by GpsGate's many features. This has allowed us to further help our customer NH Rental to optimize and improve the deployment of our GPS solutions. Through smart event rules and reading the external voltage of electrical machines, NH Rental is able to save time and money managing its rental fleet.
How does NH Rental use GpsGate?
Complex signal tracking of aerial lifting platforms
Electric boom lifts maneuver effortlessly for airplane mechanics can do their work safely. For the largest passenger and cargo aircrafts, these scissor lifts allow technicians to work at heights of 20 meters. Today's models are run on chargeable electric batteries, a strategy to help rental companies cut costs and emissions across the board. NH Rental runs both electric and diesel engine booms, fit with Teltonika Telematics GPS tracking devices. These trackers document signal inputs for optimal operations. For example, aerial booms maintain an ideal voltage of 25. Excessive voltage results in batteries that drain quickly. Over time, stretching battery life in this way renders batteries useless.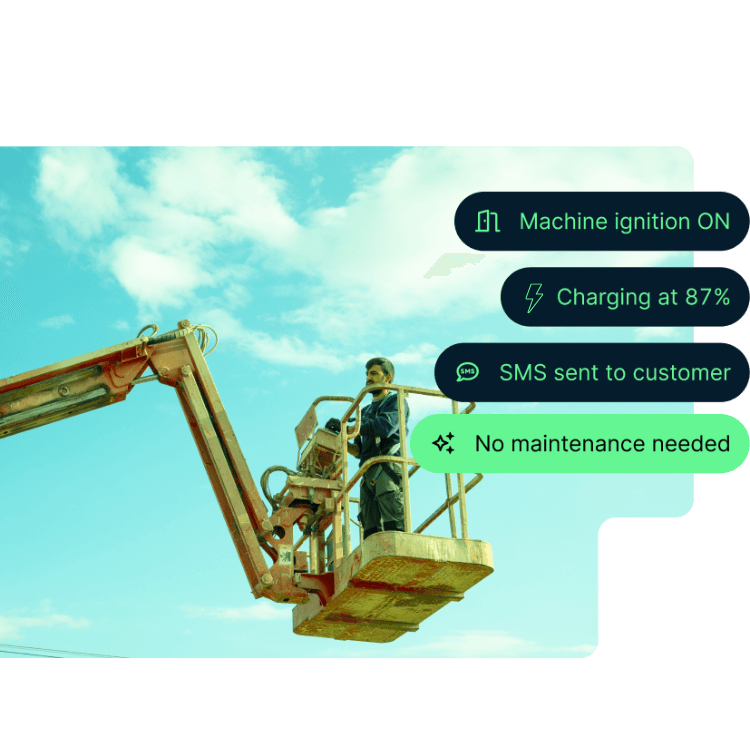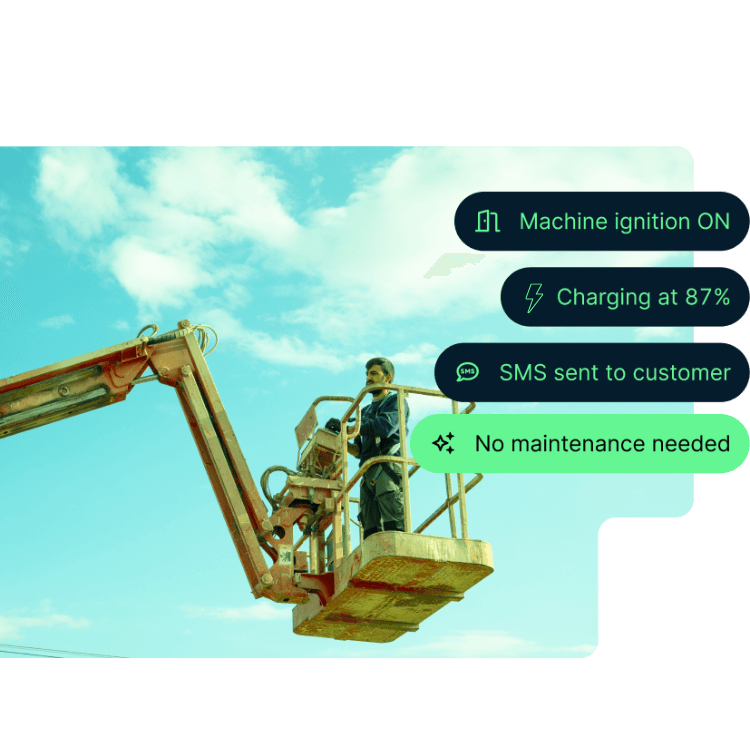 Monitoring machine data with event rules
In airport settings, time and efficiency are always at stake. Prior to working with Conneqtech, NH Rental had trouble monitoring the voltage in their machines. Machine technicians would call for assistance with dead batteries and faulty equipment. To automate this process, NH Rental makes use of GpsGate's event rules feature. An event rule is a custom set of conditions created to track a specific fleet behavior. Once an event is triggered, a notification is sent via email, SMS, or live in the application. NH Rental uses event rules to:
Receive ignition notifications to track vehicles in operation
Monitor high and low external voltage readings
Flag low-battery charges
More about how GpsGate's event rules optimize fleet management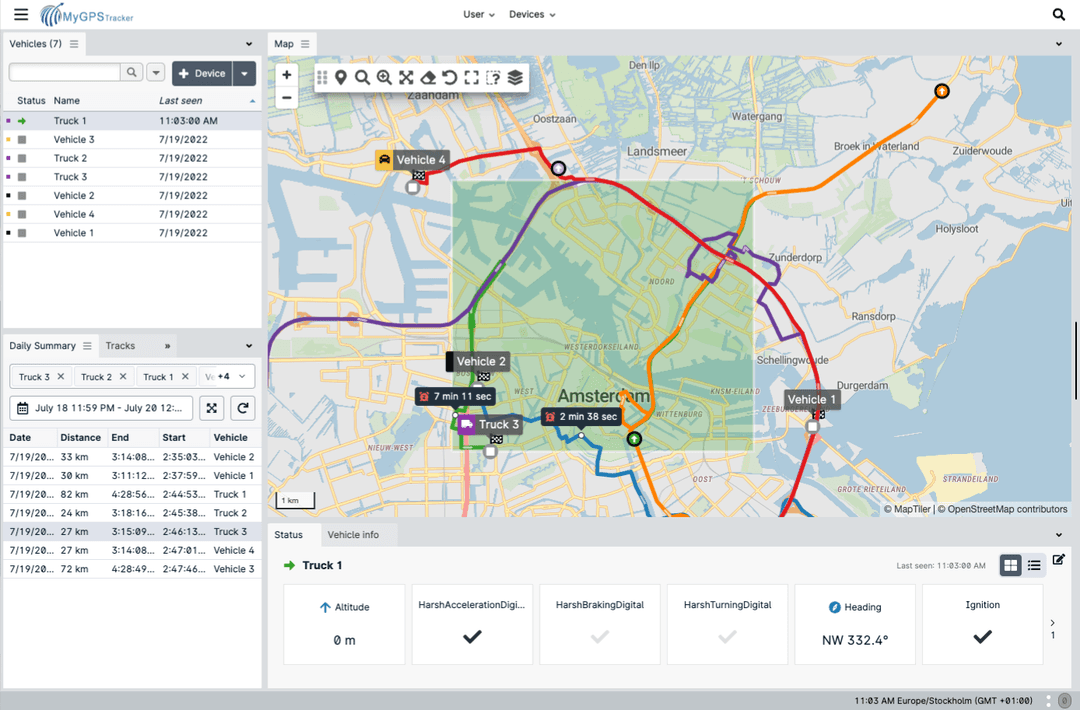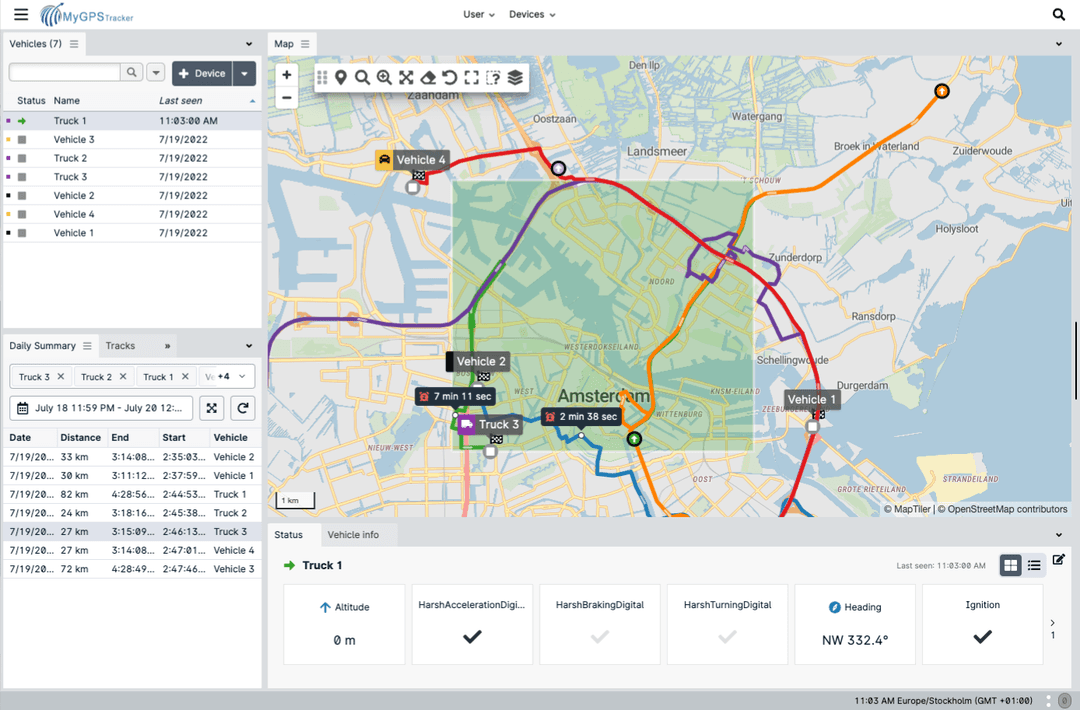 Real-time fleet tracking with GpsGate's approachable UI
Conneqtech customized a workspace specifically for NH Rental. Their rental model means that people across teams need to easily visualize fleet information. Multiple users can access machine data either via GpsGate's desktop application or the mobile Fleet app. Fleet managers and maintenance engineers can see the real-time machine locations and charging levels.
Preventative machine maintenance with GpsGate reports
Another perk of GpsGate's software is its robust reporting capabilities. Beyond standard reporting, customer reports can be configured and automatically sent to fleet team members via email, SMS, or in-application notifications. Each aerial platform has technology that measures oil pressure. With oil level reporting, NH Rental can determine which machines are due for oil changes, and which machines are burning too much oil. Monitoring fuel and oil levels prolongs the life of the equipment and prevents unnecessary part replacement.
"With Conneqtech's smart platform and GPS solutions, we have gained much better control over all of our assets. Smart innovations such as external voltage readings and automatic notifications allow us to save a lot of time and money managing the entire fleet. We currently have more than 70 machines in rental. With the help of Conneqtech, we are constantly looking at new solutions to improve asset management."
What are the outcomes for NH Rental?
Less waste and lower cost
A well-maintained boom battery lasts for up to three years. When battery voltage fluctuates too much, its lifetime is shortened to about a 1-year maximum. Without automation to monitor battery voltage, NH Rental struggled to replace batteries on demand - and the results were costly. With Conneqtech, the logistics of equipment maintenance are no longer a sticking point for their operations.
Peace of mind
Less stress in the workplace is something that everyone strives for. Remote monitoring of battery life and voltage means that staff at NH Rental don't worry about unexpected emergency calls. The peace of mind in knowing they have the tools in place helps them deliver great service and keep customers happy.
Growth at 70% and counting
Logistical challenges were preventing NH Rental from reaching its business growth goals. With the automation of Conneqtech's solution, manual processes and guesswork were eliminated. As a result of this collaboration, NH Rental has successfully tripled its aerial platform fleet and continues to scale up its business.