Fleet management essentials for police fleets
In order to keep communities safe, police fleets work to streamline their operations. Driver and civilian safety, vehicle upkeep, data security, and fuel management are just a few areas that challenge municipal fleets. With the use of the latest in vehicle telematics and GPS tracking, officers and emergency dispatchers can collaborate to deliver the service their community depends on - and do so safely.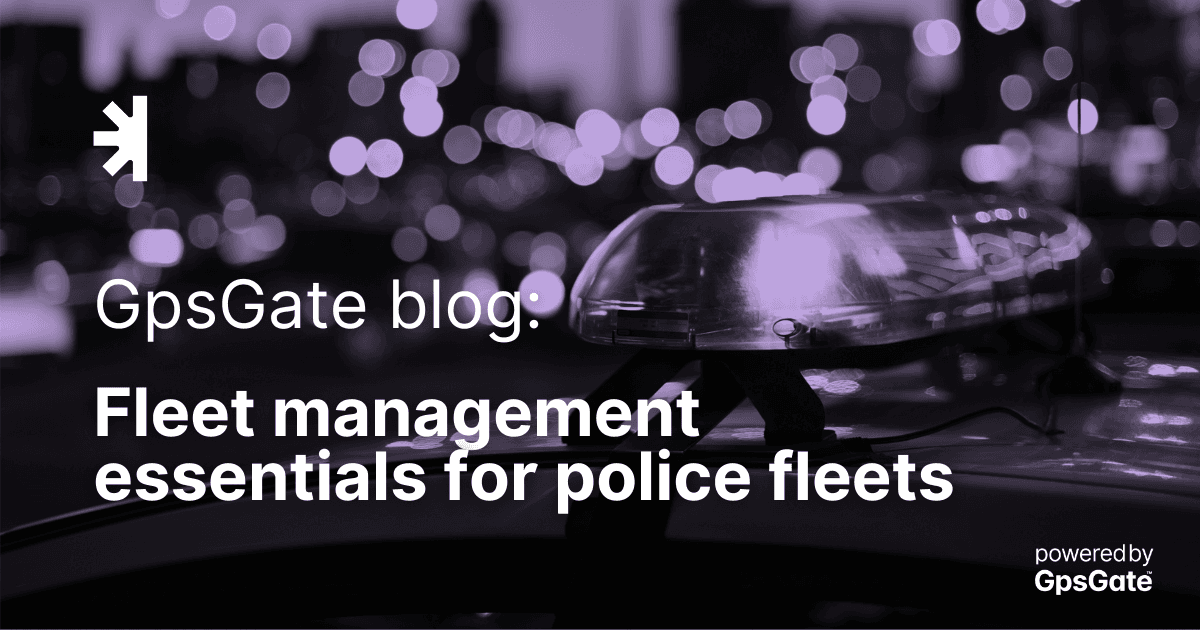 The complex nature of police work is challenging for fleet management. They work to ensure officers can respond to unique emergencies with high regard for best practices. At GpsGate, we understand that municipal fleets always face new and unique challenges. A comprehensive GPS real-time tracking and fleet management software solution helps police forces and other EMS fleets run efficiently and securely. With real-time monitoring of police vehicle movement, robust reporting, and the ability to automate and integrate, the data from GpsGate can help law enforcement agencies stay compliant while performing at a high level.
Enhanced communication for cross-departmental collaboration
From the field to the control room, accurate and updated data is key. With GpsGate, data is accessible to all members of the fleet, via our Fleet app and desktop platform. Enhanced communication is possible cross-departmentally with custom logins to protect sensitive data. One of our tracking partners in Spain uses GpsGate to help the Aragón Forestry Department manage emergency fleets in wildfire situations. Using APIs, emergency response teams receive real-time data that can be shared across agencies and departments.
With real-time geolocations of police vehicles, dispatchers can quickly and accurately coordinate response times. This ensures that the closest officers get to the scene of an incident as quickly as possible, with the proper support.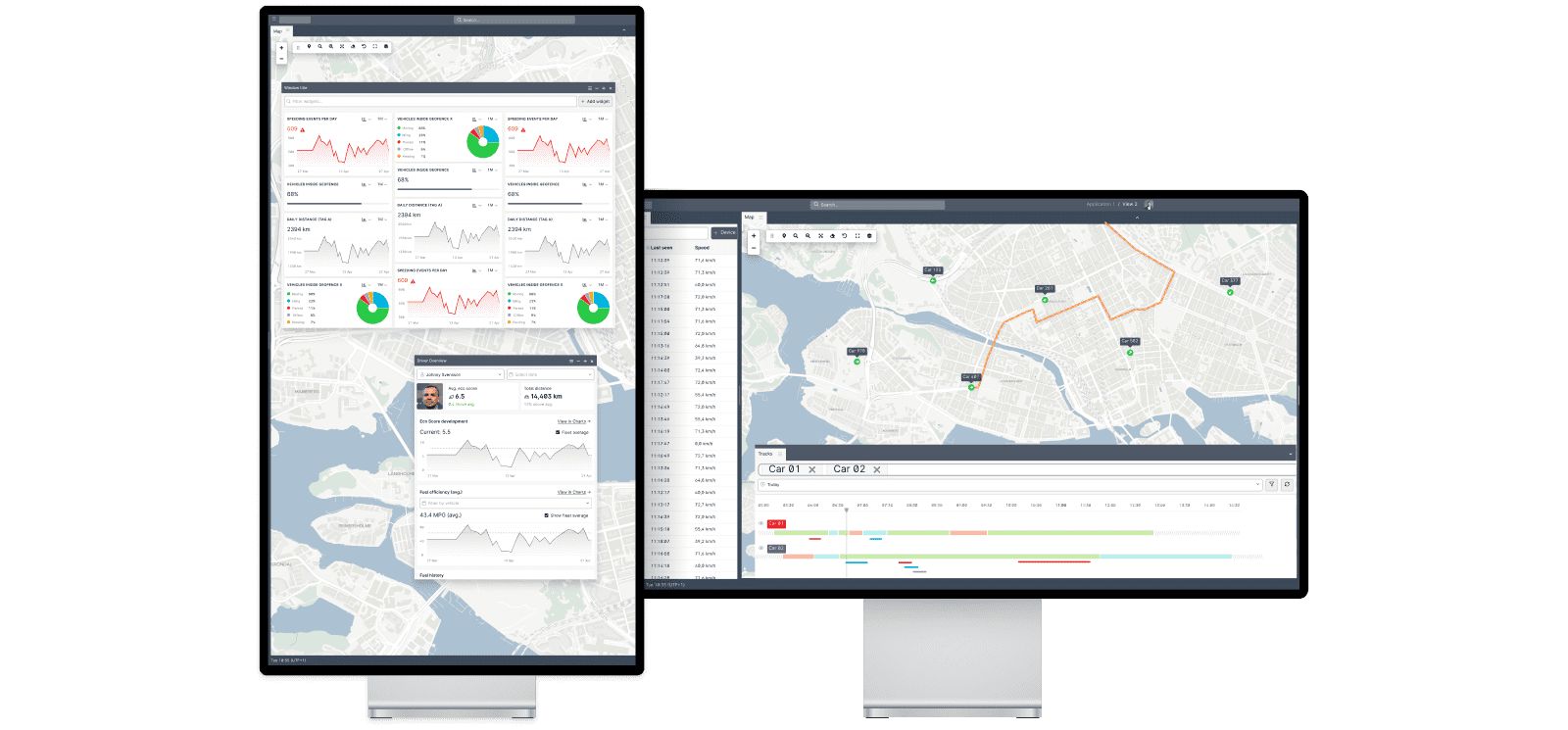 Secure data in real-time
ISO 27001 certified for information security management, GpsGate is serious about data security. We follow security-first policies across departments and develop with data integrity top of mind. It's common for police to host their tracking data behind a firewall. GpsGate on-premises keeps data protected on local servers. With GpsGate Splitter, you can share data from one GPS tracking device with several applications. A perfect solution for police, fire, and other EMS workers with in-vehicle laptops.
Increased efficiency and non-stop GPS coverage
Our GPS real-time tracking and fleet management software is designed to help improve the efficiency of police operations. By tracking the movement of police vehicles with geolocation, GpsGate enables dispatchers to allocate resources more effectively, reducing response times and ensuring that officers are always where they are needed most. Users can customize GpsGate's native map and use Google Maps for the best localization possible.
Data for continuous improvements
The real-time data collected by GpsGate is used to inform decision-making and improve overall performance. This data can be analyzed to identify patterns and trends, allowing departments to optimize their operations and better serve their communities. It's also helpful for cross-departmental coordination. Custom scripting and reporting gets you the exact data you need in even the most complex of cases.
Improved safety and eco-driving
GpsGate helps keeps fleets and communities safe through better driving practices. Our software enables dispatchers to monitor the location and speed of police vehicles in real-time, with city-wide coverage. With GpsGate's event rules, driver behavior is automated. Notifications can be powered by any event rule, from entering or leaving a geofence to speeding or harsh cornering. Flagging events helps police fleet managers dial in on common scenarios and help officers avoid mistakes in the field.
Event rules are also used to power eco-driving programs. Although it may be hard for emergency fleets to avoid harsh driving behaviors, there is always room to improve. With GpsGate, you can assign an eco-driving score to individual drivers and vehicles. When an opportunity presents itself, a driving behavior should be corrected to save money, as well as reduce the fleet's fuel consumption, and therefore its overall carbon footprint. For law enforcement agencies with electric vehicles, GPS tracks charging signals to ensure vehicles are always ready.
Better resource management
Police fleets operate with large and complex budgets. GpsGate's features help police forces control expenses and manage resources. With data on all aspects of vehicle utilization, departments can optimize their fleet size and maintenance schedules, reducing costs and improving overall efficiency. GpsGate reports make it possible to maximize patrol coverage by analyzing historical data.
Compliance and court orders
With GpsGate, municipal and government fleets can ensure compliance with court orders and legal requirements. With always-on data collection, police have verifiable location data for all dates and time periods. The data collected by our software is used to provide evidence in court cases and internal investigations as needed.
Preventive vehicle maintenance
Police departments invest a lot of time and money into fleet vehicles and equipment. Once a police vehicle is outfitted with a radio system, cameras, and tracking technology, the average cost per car is anywhere from $35,000-$60,000. With this kind of investment, it's important to monitor the condition and performance of each vehicle. With a preventive maintenance program, police fleets can stay on top of vehicle wear and tear - by identifying excessive fuel and oil use. By catching issues before they become critical, departments reduce the risk of breakdowns and ensure that their vehicles are always in good working condition.
At GpsGate, we are committed to helping police forces improve their operations and better serve their communities. Our comprehensive GPS real-time tracking and fleet management software solution provides numerous benefits and advantages, essential to the success of law enforcement agencies in today's world.
Want to know more about GpsGate?
From our headquarters in Stockholm, GpsGate powers fleets in 150+ countries. Our flexible fleet tracking platform lends itself to a diverse array of fleet types - the customizations are endless.
See our company video for more about what we do and how your tracking business can benefit from our software.