Extend your fleet's impact with GpsGate's December release
Customizing applications is commonplace for GpsGate users. With our December release, we've given you even more tools to set up the perfect GpsGate platform for your customers. An updated UI gives users better fleet oversight in Tracks Replay, easier searching in the main menu, and faster language edits with the Localization Editor.
Share fleet vehicle locations for more visibility
Is my cargo delivery on time? How will the weather affect snowplow routes this morning? Fleet managers need to share real-time driver locations to keep their customers in the know. With GpsGate, these locations are easily shared with a URL to external websites and applications. Better visibility in transportation, delivery, and public works fleets makes cross-departmental teams can work in-sync.

For further automation, APIs allow our customers to publish time-released locations. Viewers are sent a link via email or SMS that auto-expires in as little as 1 hour or a custom time frame, upwards of 1 year. Use the custom length setting to keep fleet secure, and only share locations when it's appropriate. This gives recipients the ability to keep tabs on fleet movements only when they need to and adjust their workflow accordingly - saving valuable time and streamlining fleet communication.

With this month's UI updates, the publish link URLs are shorter, and we've added a popup window that details all actively shared public links. Need to end link viewing privileges? Right-click on a fleet vehicle to see its active links and remove them from public viewing. End sharing whenever you need to for total control over fleet data.
Test this feature now! Click shorturl.at/hoB07 and watch as we navigate around GpsGate's headquarters Stockholm.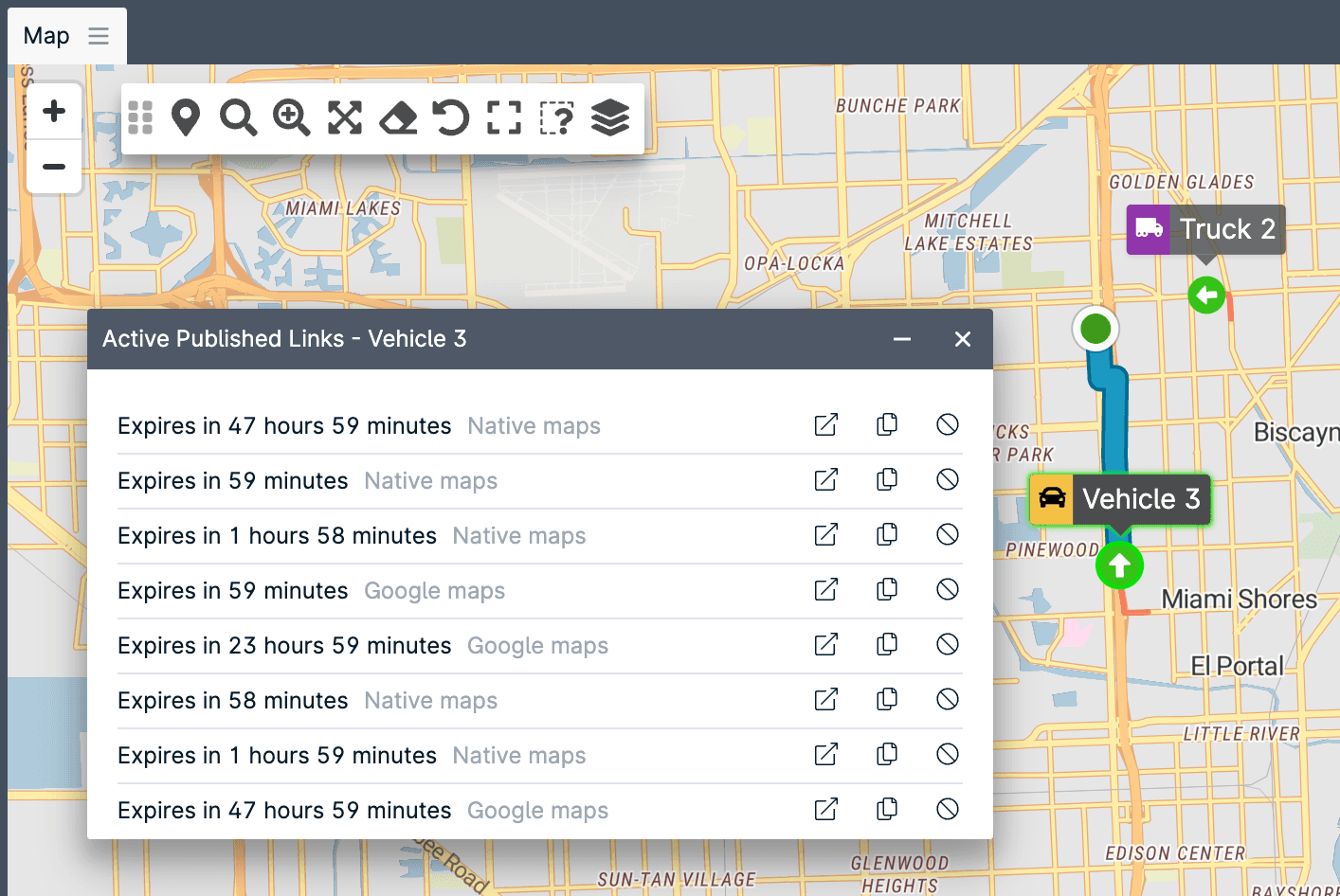 Vehicle labels added to Tracks Replay
You can now view vehicle labels as you watch the vehicle move on the map in Tracks Replay. Keep a specific vehicle in sight as you replay and skip between track points. Within this view, you'll also see important signals like fuel level, speed, and temperature fluctuate during the journey. This allows you to keep historical data for large fleets in order. You can capture accurate screen shots and recordings of historical fleet activity when accountability and transparency in fleet history is important.
Find settings quickly with the new main menu search
The main menu now has a search function to locate admin pathways you use most. Quicker access means it's a breeze to customize settings like application map views and privileges. Search options display the submenu pathways you need to make quick changes, for example, Site Admin > Applications > Manage Applications.
Customize application UI with the Localization Editor
GpsGate's Localization Editor has an UI update. Fleet managers use this tool to assign custom terms within GpsGate that better reflect customer language. Using company-specific terms and jargon makes it easier for all members of the fleet to go about their daily work.
'Add Device' can become 'Add ATM', 'Add Vehicle', etc, to better reflect your customers' focus
Change features names like Geofences, and Tracks to reflect company language
New tracking devices added monthly
GpsGate's device integration team works closely with lead manufacturers to bring the latest GPS capabilities to your platform. Improvements, new signals, and fixes ensure that your devices are always giving you the fleet data you need. New this month:
Get all the details
You can view all the details of new supported devices, system updates, and UX improvements in December's release notes. For access to the latest and greatest version of GpsGate, update to the most recent monthly release.
Dispatch was deprecated in February 2022. See more details on the deprecation schedule. Have questions or hesitations about updating? Contact GpsGate Support, we're here to help!